L.A. Must First Determine Section
19th June 1964
Page 37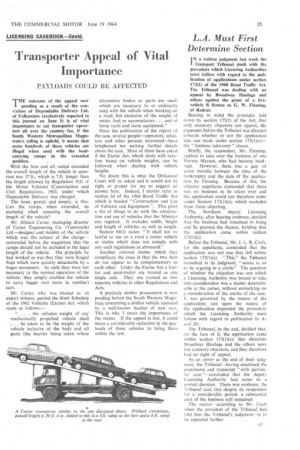 Page 37, 19th June 1964 —
L.A. Must First Determine Section
Close
IN a written judgment last week the I Transport Tribunal dealt with the procedure which Licensing Authorities must follow with regard to the publication of applications under section 173(2) of the 1960 Road Traffic Act. The Tribunal was dealing with an appeal by Broadway Haulage and others against the grant of a fivevehicle B licence to G. W. Fleming, of Redcar. '
Bearing in mind the principle, laid down by section 175(2) of the Act, that only statutory objectors can appeal, the argument befere the Tribunal was directed towards. whether or not the application was one made under Section 173(I)(c)— the " business take-over" clause.
Briefly, the respondent, Mr. Fleming, applied to take over the business of one Horace Marson,. who had become bank
rupt. However, there was a . gap of seven months between the time of the bankruptcy and the date of the application by Fleming. Because of this, the, objector appellants contended that there was no business to be taken over and the application could not therefore come under Section 173(I)(c), which excluded them. from objecting.'
The Northern deputy Licensing Authority, after hearing evidence, decided that the business had remained in being and he granted the licence, holding that the application came within section 173(1)(c).
Before the Tribunal, Mr. .I. L. R. Croft, for the. appellants, contended that the application was not one that fell within section 173(1)(c). ".This," the Tmibunal remarked in its judgment, seems to us to be arguing in a circle." The question of whether the objection was one which a Licensing Authority was bound to take into consideration was a matter determinable at the outset, without embarking on a consideration of the merits of the 'case. It was governed by the nature of the application, and upon the nature of the application depended the procedure which the Licensing Authority must follow with regard to publication in As and Ds.
The Tribunal, in .the end, decided that, on the face of it, the application came within section 173(1Xc); that therefore Broadway Haulage and the others were not statutory objectors, and they therefore had no right of appeal.
As an °biter at the end of their judgment, the Tribunal—having examined the documents and transcript "with particular care "—concluded that the deputy Licensing Authority had come to a correct decision. There was evidence, the Tribunal said, that despite its suspension for a considerable period, a substantial part of the business still remained.
The matteraccording to -Mr. Croft when the president of the Tribunal had told him the Tribunal's judgment—is to he appealed further: