WAR .ON.:DUST at :-Cleansi4g Show
19th June 1959
Page 34
Page 35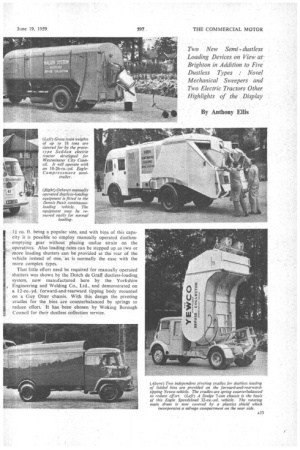 Page 36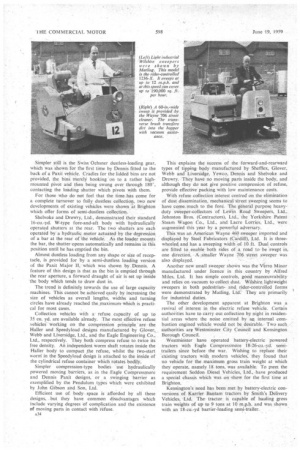 Page 34, 19th June 1959 —
WAR .ON.:DUST at :-Cleansi4g Show
Close
Two New Semi-dustless Loading Devices on View at' Brighton in Addition to Five Dustless Types : Novel Mechanical Sweepers and Two Electric Tractors Other Highlights of the Display By Anthony Ellis
CLEANER conditions for operatives and greater efficiency are . foreshadowed bydevelopinents in equipment displayed during the Institute of Public Cleansing conference at Brighton last week.. Taking dustless reftise collection first as the major %future trend in public cleansing in this country, it is apparent that manufacturers of dustless-loading equipment are Showing More optimism 'this year as to its ultimate success. At the 1958 conference, great hopes existed for the resurgence of this type of collection following its trials before and after the war' when it was in ._ the''.main, found wanting or 'too expensive and discarded: • . 7' • . ..•• _ The question which stilt had to be answered. in 1958 was . whether any major local authority would be prepared to ,accept,. the cost of turning over to the new syStem. This has now been answered by Birmingham Corporation's -. rapid recognition of the success of theirdustless7co1lection .
• pilot scheme. (The Commercial Motor; June 5), and the decisiOn to adopt it throughout the city Attractive as dustless collection is to the •householder, it is even more desirable for local authorities Who have for some time experienced difficulty in obtaining labour for what is with normal collection, an unattractive task. Power-operated bin-lifting gear and the use of larger bins, necessitating the employment of. bin trolleys, cuts down' the effort required, whilst the elimination Of free dust makes the job Cleaner. Indeed, dustless ci3llection could well overcome the staff shortage difficulties of the . public cleansing services. . • , Continental Designs Preferred Cleansing vehicle manufacturers have certainly not been slow to offer vehicles equipped for .hygienic collection. In general they have opted' for proven Continental designs of dustless:loading shutter, taking a short cut to providing trouble-free equipment. However, there are exceptions , tothis, notably bY Shefflex, Ltd. Although their wellestablished dustless-loading system (it is in use by six local, authorities) is perhaps somewhat slower than the Continental types, it does have the advantage of being able to cope with a wide range of bins, catering for open bins as well as those fitted with hinged lids.
Probably the most widely used Continental dustless shutter is the Zoller air-operated model. It is manufactured A32
under licence in this country by Glover, Webb and Liversidge, Ltd., and is fitted . to their .dustlessAoading , Haller refuse vehicle. ft--vasshown last year fitted to -the Eagle Engineering company's Speedyload body, but had. been been superseded on the model f.:1•town this year by a comparable, but hydraulically operated, Italian Talenti gear. The Talenti equipment is favoured by Eagle because . it is easier to provide hydraulic pressure than compressed air for this operation, and it is also cheaper than the Zoller. If the demand is sufficient, it will be manufactured under licence in this country by Eagle.
Whilst, the power-operated dustless bin-emptying gears make it possible to use large bins (4-cu.-ft. typesbeing commonly in use in Germany), many authorities feel' that fully hygienic refuse collection should operate on a twiceweekly basis. This indicates the use of smaller bins,
. 1+ cu. ft. being a popular size, and with bins of this capa city it is possible -to employ manually operated dustlessemptying gear without placing undue strain on the operatives. Also loading rates can be stepped up as two or more loading shutters can be provided at the rear of the
vehicle instead of one, -as is normally the case with the more complex types.
That little effort need be required for manually operated. shutters was shown by the Dutch de Graff dustless-loading.
system, now manufactured here by the Yorkshire Engineering and Welding Co., Ltd., and demonstrated on a 12-cu.-yd forward-and-rearward tipping body mounted on a Guy Otter chassis. With this design the pivoting cradles for the bins are counterbalanced by springs to reduce effort. -It -has been chosen by Woking Borough Council for their dustless collection service. Simpler still is the Swiss Ochsner dustless-loading gear,
which was shown for the first time by Dennis fitted to the back of a•Paxit vehicle. Cradles for the lidded bins are not provided, the bins merelY hooking on to a rather highmounted pivot and then being swung over through 1800
, contacting the loading shutter which pivots with them.
For those who do not feel that the time has come for a complete turnover to fully dustless collection, two new developments of existing vehicles were shown at Brighton
which offer forms of semi-dustless collection. . Shelvoke and Drewry, Ltd., demonstrated their standard 16-cu.-yd. W-type fore-and-aft body with hydraulically
operated shutters at the rear. The two shutters are each operated by -a hydraulic motor actuated by the depression of a bar at the rear of the vehicle. As the loader mounts the bar, the shutter opens automatically and remains in this position until he has emptied the bin.
Almost dustless loading from any shape or size of recep tacle, is provided for by a semi-dustless loading version of the Paxit Major Ti, which was shown by Dennis. A feature of this design is that as the bin is emptied through the rear aperture, a forward draught of air is set up inside the body which tends to draw dust in.
The trend is definitely towards the use of large capacity machines. This cannot be achieved easily by increasing the size of vehicles as overall lengths, widths and turning circles have already reached the_maximum which is practical for most cases.
Collection vehicles with a refuse capacity of up to 35 cu. yd. are available already. The most effective refuse vehicles working on the compression principle are the Haller and Speedyload designs manufactured by Glover, Webb and Liversidge, Ltd., and the Eagle Engineering Co., Ltd, respectively. They both compress refuse to twice its free density. An independent worm shaft rotates inside the Haller body to compact the refuse, whilst the two-start wornri in the Speedyload design is attached to the inside of the cylindrical refuse container which rotates bodily.
Simpler compression-type bodies use hydraulically powered moving barriers, as in the Eagle Compressmore and Dennis Paxit designs, or a swinging barrier as exemplified by the Pendulum types which were exhibited by John Gibson and Son, Ltd.
Efficient use of body space is afforded by all these designs, .but they have common disadvantages which include varying degrees of complication and the existence of moving parts in contact with 'refuse.
A34 This explains the success of the forward-and-rearward types of tipping body manufactured by Shefflex, Glover, Webb and Liversidge, Yewco, Dennis and Shelvoke and Drewry. They have no moving parts inside the body, and although they do not give positive compression of refuse, provide effective packing with low maintenance costs.
With refuse-collection interest centred on the elimination of dust dissemination, rnechanicatstreet sweeping seems to have come much to the fore. The general purpose heavyduty sweeper-collectors of LeWin Road Sweepers, Ltd., Johnston Bros. (Contractors), Ltd., the Yorkshire Patent Steam Wagon Co., Ltd., and Lacre Lorries, Ltd., were augmented this year by a powerful adversary.
This.was an American Wayne 469 sweeper imported and displayed by Steel Fabricators (Cardiff), Ltd. It is threewheeled, and has a sweeping width :of 10 ft. Dual controls are fitted to enable both sides of a-road to .he 'swept in one direction. A-smaller Wayne 706_ street sweeper was also displayed.
Another new small sweeper shown was the Verro Minor manufactured under licence in this country by Alfred Miles, Ltd. It has simple controls, good manteuvrability and relies' onvacuum to collect dust. Wilshire lightweight sweepers in both pedestrianand rider-controlled forms were demonstrated by Matling, Ltd: They are primarily for industrial duties.
The other development apparent at Brighton was a revival of interest in the electric refuse vehicle. Certain authorities have to carry out collection by night in residential areas where the noise emitted by ao internal combustion engined vehicle would not be desirable.Two such authorities are Westminster City Council and Kensington Borough Council.
Westminster have operated battery-electric powered tractors with Eagle Cornpressmore I 8-26-cu.-yd. semitrailers since before the war. Wishing to replace their existing tractors with modern vehicles, they found that no vehicle for the maximum gross train weight at which they operate, namely 18 tons, was available. To meet the requirement Seddon Diesel Vehicles, Ltd., have produced a special chassis which was on show for the first time at Brighton.
Kensington's need has been met by battery-electric conversions of Karrier Bantam tractors by Smith's Delivery Vehicles, Ltd. The tractor is capable of hauling gross train weights of up to 9 tons at 10 m.p.h. and was shown with an 18-cu.-yd barrier-loading semi-trailer.