Cooler and Drier Air for Coaches
19th June 1959
Page 33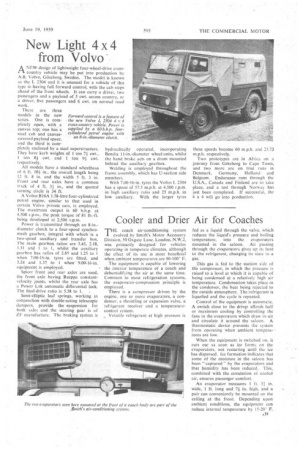 Page 33, 19th June 1959 —
Cooler and Drier Air for Coaches
Close
THE coach air-conditioning system evolved by Smith's Motor Accessory Division, 50 Oxgate Lane, London, N.W2, was primarily designed for vehicles operating in temperate climates, although the effect of its use is most beneficial when ambient temperatures arc 90-100' F.
The equipment is capable of lowering the interior temperature of a coach and dehumidifying the air at the same time. Common to most refrigeration systems, the evaporator-compression principle is employed.
There is a compressor driven by the engine, one or more evaporators, a condenser, a throttling or expansion valve, a refrigerant receiver and a temperaturecontrol system.
Volatile refrigerant at high pressure is fed as a liquid through the valve, which reduces the liquid's pressure and boiling temperature, into the evaporators mounted in the saloon. Air passing through the evaporators gives up its heat to the refrigerant, changing its state to a gas.
This gas is fed to the suction side of the compressor, in which the pressure is raised to a level at which it is capable of being condensed at a relatively high air temperature. Condensation takes place in the condenser, the heat being rejected to the outside atmosphere. The refrigerant is liquefied and the cycle is repeated.
Control of the equipment is automatic. A switch close to the drinr affords half or maximum cooling by controlling the fans in the evaporators which draw in air and circulate it around the saloon. A thermostatic device prevents the system from operating when ambient tempera, tures are low.
When the equipment is switched on, it cuts out as soon as ice forms on the evaporators, not restarting until the .ice has dispersed Ice formation indicates that some of the moisture in the saloon has been " captured " by the evaporators and that humidity has been reduced. This, combined with the circulation of cooled air, ensures passenger comfort.
An evaporator measures 1 ft. 31 in. wide, 1 ft. long and 71 in. high, and a pair can conveniently be mounted on the ceiling at the front. Depending upon ambient conditions, the equipment can reduce internal temperature by 15-20' F.