Yorkshire Pool and Wallace Arnold Fight Over Linking
19th June 1959
Page 32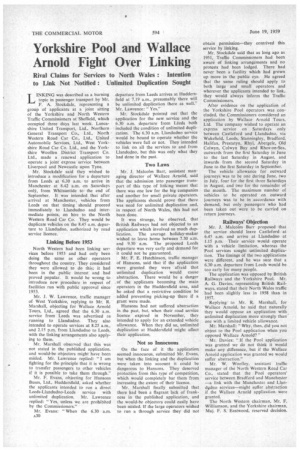 Page 32, 19th June 1959 —
Yorkshire Pool and Wallace Arnold Fight Over Linking
Close
Rival Claims for Services to North Wales : Intention to Link Not Notified : Unlimited Duplication Sought
LINKING was described as a burning topic in passenger transport by Mr.
• F. A. Stockdale, representing a group of applicants at a joint sitting of the. Yorkshire and North Western Traffic Commissioners at Sheffield, which occupied three days last week. Lancashire United Transport, Ltd., Northern .
General Transport Co., Ltd., North Western Road Car Co., Ltd., United Automobile Services, Ltd., West Yorkshire Road Car. Co. Ltd., and the YorkShire Woollen District Transport Co. Ltd., made a renewal application to operate a joint express service between Liverpool and Newcastle upon Tyne.
Mr. Stockdalesaid they wished to introduce a modification for a departure from Leeds at 6.30 a.m. to arrive in Manchester at 8.42 a.m. on Saturdays onlk, from Whitsuntide to the end of September. It was intended that after arrival at Manchester, vehicles from Leeds on that timing should proceed immediately to Llandudno and intermediate points, on hire to the North Western Road Car Co. They would be duplicate vehicles on the 8.45 a.m. departure to Llandudno, authorized by road service licence.
Linking Before 1953
North Western had been linking services before 1953 and had only been doing the same as other . operators throughout the country. They considered they were allowed to do this; it had been in the public interest and had proved popular. It would be wrong to introduce new procedure in respect of facilities run with public approval since 1953.
Mr. J. W. Lawrence, traffic manager of West Yorkshire, replying to Mr. R. Marshall, objecting for Wallace Arnold Tours, Ltd., agreed that the 6.30 a.m. service from Leeds was advertised as running to Llandudno. They also intended to operate services at 8.25 a.m., and 2.15 p.m. from Llandudno to Leeds, with the linking arrangements also applying to them.
Mr. Marshall observed that this was not stated in the published application, and would-be objectors might have been misled. Mr. Lawrence replied: "I am fighting for the principle that it is wrong to transfer passengers to other vehicles if it is possible to take them through."
Mr. F. Evans, objecting for Hansons Buses, Ltd., Huddersfield, asked whether the applicants intended to run a direct Leeds-Llandudno-Leeds service with unlimited duplication. Mr. Lawrence replied: "Yes, unless we are prohibited by the Commissioners."
Mr. Evans: " When the 6.30 a.m. A30 departure from Leeds arrives at Huddersfield at 7.19 a.m., presumably there will be unlimited duplication there as well." Mr. Lawrence: "Yes."
Mr, Stockdale pointed out that the application for the new service and the 6.30 a.m. departure from Leeds both included the condition of unlimited duplication. The 6.30 a.m. Llandudno service would be bound to operate whether the vehicles were full or not. They intended to link on all the services to and from Llandudno. but this was only what they had done in the past.
Two Laws Mr. 1. Malcolm Barr, assistant managing director of Wallace Arnold, said that the admission into passenger transport of this type of linking Meant that there was one law for the big companies and another for small private operators. The applicants should prove that there was need for unlimited duplication and, in respect of North Wales, this had not been done.
It was strange, he observed, that British Railways had not objected to an application which involved so much duplication. The average holiday-maker wished to leave home between 7.30 a.m. and 9.30 a.m. The proposed Leeds departure was very early and demand for it could not be guaranteed.
Mr. F. E. Hutchinson, traffic manager of Hansons, said that if the application were granted they were afraid that unlimited duplication would cause abstraction. There would be a danger of the applicants becoming the main operators in the Huddersfield area, and he asked that a restrictive condition be added preventing picking-up there if a grant were made.
Hansons had not suffered abstraction in the past, but, when their road service licence expired in November, they intended to apply for an extended vehicle allowance. When they did so, unlimited duplication at I-luddersfield might affect their application.
Not so Innocuous
On the face of it the application seemed innocuous, submitted Mr. Evans, but when the linking and the duplication were taken into account it could be dangerous to Hansons. They deserved protection from this type of competition, which would completely bar them from increasing the extent of their licence.
Mr. Marshall finally submitted that there had been a flagrant lack of frankness in the published application, and the would-be objectors could easily have been misled. If the large operators wished to run a through service they did not obtain permission—they contrived this service by linking.
Mr. Stockdale said that as long ago as 1951, Traffic Commissioners had been aware of linking arrangements and no protests had been lodged. There had never been a facility which had grown up more in the public eye. He agreed that the same ruling should apply to both large and small operators and wherever the applicants intended to link, they would always inform the Traffic Commissioners.
After evidence on the application of the Yorkshire Pool operators was concluded, the Commissioners considered an application by Wallace Arnold Tours. Ltd. The company wished to operate an express service on Saturdays only between Casticford and Llandudno, via Wakefield, Leeds, Stanningley, Bradford, Halifax, Prestatyn, Rhyl, Abergele, Old Colwyn, Colwyn Bay and Rhos-on-Sea, outwards from the first Saturday in June to the last Saturday in August, and inwards from the second Saturday in June to the first Saturday in September.
The vehicle allowance for outward journeys was to be one during June, two in July, four for the first three Saturdays in August, and two for the remainder of the month. The maximum number of vehicles to be operated on outward journeys was to be in accordance with demand, but only passengers who had been taken out were to he carried on return journeys.
Railways' Objection
Mr. J. Malcolm Barr proposed that the service should leave Castleford at 6.45 a.m. and arrive at Llandudno at 1.15 p.m. Their service would operate with a vehicle limitation, whereas the Pool services sought unlimited duplication. The timings of the two applications were different, and he was sure that a 6.30 a.m. departure from Leeds would be too early for many people.
The application was opposed by British Railways and the Yorkshire Pool. Mr. A. G. Davies, representing British Railways, stated that their North Wales traffic had been slightly less in 1958 than in 1957.
Replying' to Mr. R. Marshall, for Wallace Arnold, he said that naturally they would oppose an application with unlimited duplication more strongly than one with a limited vehicle allowance.
Mr. Marshall: "Why, then, did you not object to the Pool application when you opposed Wallace Arnold?"
—Mr. Davies: "if the Pool application was granted we do not think it would make any difference, but if the Wallace Arnold application was granted we would suffer abstraction."
Mr. W. Woolley, assistant traffic manager of the North Western Road Car Co., stated that the Pool operators' service between Bradford and Manchester —a link with the Manchester and Llandudno services—might stiffer abstraction if the Wallace Arnold application were granted.
The North Western chairman, Mr. F. Williamson, and the Yorkshire chairman, Maj. F. S. Eastwood, reserved decision.
Tags
People
:
J. Malcolm Barr
,
F. E. Hutchinson
,
Wallace Arnold Fight
,
J. W. Lawrence
,
W. Woolley
,
Malcolm Barr
,
A. Stockdale
,
F. Williamson
,
F. S. Eastwood
,
A. G. Davies
,
R. Marshall
,
F. Evans