No Normal-user Rule Laid Down
19th June 1959
Page 28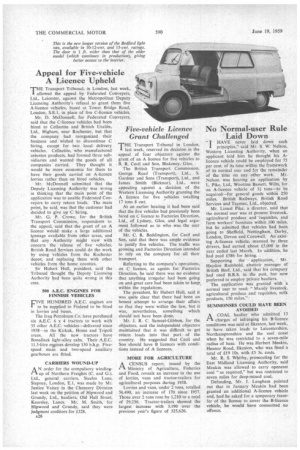 Page 28, 19th June 1959 —
No Normal-user Rule Laid Down
Close
" 1 HAVE never laid down such
principles," said Mr. S.' W. Nelson, Western Licensing Authority, when an applicant told him he thought his Alicence vehicle could be employed for 75 per cent. of its time within the framework of its normal user and for the remainder of the time on any other work. Mr. Nelson was hearing an application by L. Pike, Ltd., Wootton Bassett, Wilts, for an A-licence vehicle of n tons—to be acquired—for general goods within 250 miles. British Railways, British Road Services and Taymac, Ltd., objected.
Mr. Lionel Pike, a director, said that the normal user was at present livestock, agricultural produce and -requisites, and farm workers' furniture within 100 miles, but he admitted that vehicles had been going to Sheffield, Nottingham, Derby, London, Devon and Cornwall. An existing A-licence vehicle, manned by. three drivers, had earned about £5,000 in the year ended last March. In addition, he had paid £586 for hiring. .
Supporting the application, Mr. Haydon Rumbold, abattoir manager of British Beef. Ltd., said that his company had used B.R.S. in the past, but now preferred to employ private hauliers.
The application was granted with a normal user to read:" Mainly livestock, agricultural produce and requisites, milk products, 150 miles."
SUMMONSES COULD HAVE BEEN AVOIDED
ACOAL haulier who admitted 13 charges of infringing his B-licence
conditions was said at Ilkeston, last week, to have taken loads to Leicestershire, Northamptonshire and the east coast when he was restricted to a seven-mile radius of base. He was Herbert Meakin, Heanor Road, Ilkeston, who was fined a total of £19 10s. with £3 3s. costs.
Mr. R. S. Whitby, prosecuting for the East Midland Licensing Authority, said Meakin was allowed to carry opencast coal " as required," but was restricted to seven miles for deep-mined coal.
Defending, Mr. J. Langham pointed out that in January Meakin had been granted an additional A-licence vehicle and, had he asked for a temporary transfer of the licence to cover the B-licence vehicle, he would have committed no offence.