Five-vehicle Licence Grant Challenged
19th June 1959
Page 28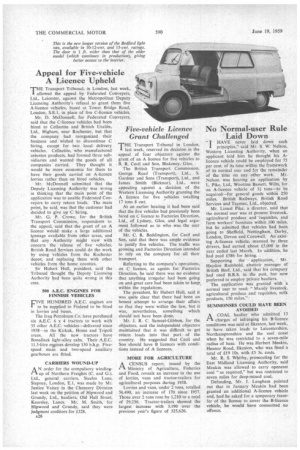 Page 28, 19th June 1959 —
Five-vehicle Licence Grant Challenged
Close
THE Transport Tribunal in London, last week, reserved its decision.in the appeal of four objectors against the grant of an A licence for five vehicles to B. R. Cecil and Son, Blakeney, Glos.
The British Transport Commission. George Read (Transport), Ltd., S. Gardner and Sons (Transport), Ltd., and James Smith .(Bicknor), Ltd., were appealing against a decision of the Western Licensing Authority granting the A licence for five vehicles totalling 17 tons 8 cwt.
At an earlier hearing it had been said that the five vehicles had previously been hired on C licence to Factories Direction, Ltd., of Lydney, Glos, and legal argument followed as to who was the user of the vehicles.
Mr. C. R. Beddington, for Cecil and Son, said that there was ample evidence to justify five vehicles. The traffic was growing and Factories Direction intended to rely on the company for all their transport.
Referring to the company's operations, on C licence, as agents for Factories Direction, he said there was no evidence that anything irregular had been going on and great care had been taken to keep, within the regulations.
The president, Sir Hubert Hull, said it was quite clear that there had been an honest attempt to arrange their affairs so that they were within the law, but it was, nevertheless, something which should not have been done.
Mr. J. R. C. Samuel-Gibbon, for the objectors, said the independent objectors maintained that it was difficult to get return loads into that part of the country. He suggested that Cecil and Son should have B licences with conditions instead of A licences.
MORE FOR AGRICULTURE
A CENSUS report, issued by the 1-3. Ministry of Agriculture, Fisheries and Food, reveals an increase in the use of lorries, vans and tractor-trailers for agricultural purposes during 1958.
Lorries and vans, under 2 tons, totalled 56,490, an increase of 170 since 1957. Those over 2 tons rose by 1,210 to a total of 29,230. Tractor-trailers showed the largest increase with 3.190 over the previous year's figure of 325,620.