• Appeal for Five-vehicle A Licence •Upheld
19th June 1959
Page 28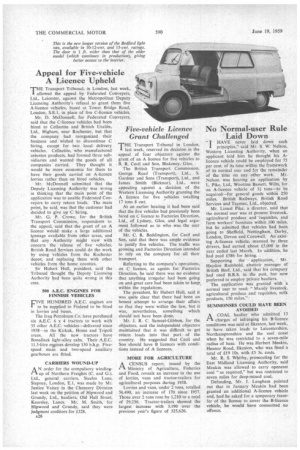 Page 28, 19th June 1959 —
• Appeal for Five-vehicle A Licence •Upheld
Close
THE Transport Tribunal. in London, last week, allowed the appeal by Federated Conveyers, Ltd., Leicester, against the Metropolitan Deputy
Licensing Authority's refusal to grant them five A-licence vehicles, based at Tower Bridge Road,
London; S.E.1, in place of five C-licence vehicles. Mr. D. McDonnell, for Federated Conveyers, said that the C-licence vehicles had been hired to Cellactite and British Uralite, Ltd., Higham, near Rochester, but that the company had reorganized their business and wished to discontinue C hiring, except for two local delivery vehicles. Cellactite, who manufactured asbestos products, had formed three subsidiaries and wanted the goods of all companies carried. They thought it would be more economic for them to
_ have their goods carried on A-licence lorries rather than on hired vehicles. Mr. McDonnell submitted that the Deputy Licensing Authority was wrong in thinking that the main point of the application was to enable Federated Conveyers to carry return loads. The main point, he said, was that the customer had decided to give up C hiring.
Mr. G. P. Crowe, for the British Transport Commission, respondents to the appeal, said that the grant of an A licence would make a large additional tpnnage available from other areas, and that any Authority might view with concern the release of five vehicles. British Road Services could do the work by using vehicles from the Rochester depot, and replacing them with other vehicles from the home counties.
Sir Hubert Hull, president, said the Tribunal thought the Deputy Licensing Authority had been quite wrong in this case.
500 A.E.C. ENGINES FOR FINNISH VEHICLES
FIVE HUNDRED A.E.C. engines are to be supplied to Finland to be fitted in lorries and buses.
The Iraq Petroleum Co. have purchased six A.E.C. 6 x 4 tractors to work with 35 other A.E.C. vehicles—delivered since 1958—in the Kirkuk, Horns and Tripoli areas. All the new tractors have Bonallack light-alloy cabs. Their A.E.C. 11.3-litre etlgines develop 150 b.h.p. Fivespeed main and two-speed auxiliary gearboxes are fitted.
CARRIERS WOUND-UP
PA.A N order for the compulsory windingup of Northern Freights (C. and G.), Ltd., general carriers, Steeles Lane, Stepney, London, E.1, was made by Mr. Justice Vaisey in the Chancery Division last week on the petition of Hipwood and Grundy, Ltd., hauliers, Old Hall Street, Kearsley, Lancs. Mr. M. Smith, for Hipwood and Grundy, said they were judgment creditors for £328.
A26