Hauliers Complain of Defamation
19th June 1959
Page 23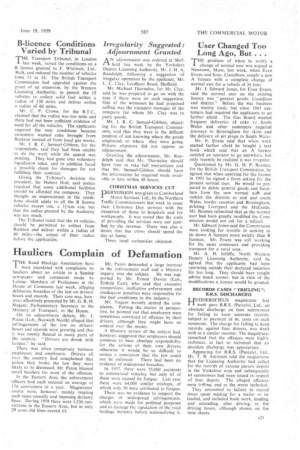 Page 23, 19th June 1959 —
Hauliers Complain of Defamation
Close
THE Road Haulage Association have I been inundated with complaints by hauliers about an article in a Sunday newspaper and comments made by Labour Members of Parliament in the House of Commons last week, alleging deliberate breaches of the law on drivers' hours and records. Their case was, however, effectively presented by Mr. G. R. H. Nugent, Parliamentary Secretary to the Ministry of Transport, in the House.
On an adjournmentdebate, Mr_ J. Paton (Lab., Norwich North) alleged that infringements of the law on drivers' hours and records were growing and that it was openly flouted in many parts of the country. " Drivers are drunk with fatigue," he said.
There was often conspiracy between employees and employers. Drivers all over the country had complained that unless they broke the law they were likely to be dismissed. Mr. -Paton blamed small hauliers for most of the offences.
In the Eastern Area the enforcement officers had each secured an average of 176 convictions in a year. Magistrates' .courts were, however, mainly treating such cases casually and imposing derisory fines. During 1958 there were 1,236 convictions in the Eastern Area, but in only 29 cases did fines exceed £3. Mr. Paton demanded a large increase in the enforcement staff and a Ministry inquiry into the subject. He was supported by Mr. Ernest Davies (Lab., Enfield East). who said that excessive competition, ineffective enforcement and inadequate penalties were responsible for the bad conditions in the industry.
Mr. Nugent warmly denied the complaints. Putting the matter in perspective, he pointed 'out that employers were sometimes convicted of offences by their drivers, although they might have no control over the matter.
A Ministry review of the subjcet had, however, suggested that employers should continue to bear absolute responsibility for the actions of their own drivers, otherwise it would be so difficult to secure a conviction that the law could not be enforced. There had been no evidence of widespread breaches.
In 1957. there were 55,000 accidents to commercial vehicles, but only 65 of them were caused by fatigue. Last year there were 64,000 similar mishaps, of which only 70 were attributed to fatigue.
There was no evidence to support the charges of widespread infringements, which were made for political purposes and to damage the reputation of the road haulage induStrv before nationalizing it.