Now Brockhouse FifthWheel Semi-trailers
19th June 1959
Page 22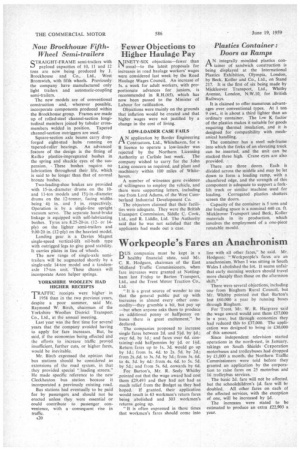 Page 22, 19th June 1959 —
Now Brockhouse FifthWheel Semi-trailers
Close
STRAIGHT-FRAME semi-trailers with payload capacities of 10, 11 and 12 tons are now being produced by J. Brockhouse and Co., Ltd., West Bromwich, with fifth wheels. Previously the company have manufactured only light trailers and automatic-coupling semi-trailers.
The new models are of conventional construction and, wherever possible, incorporate components produced within the Brockhouse group. Frames are made up of rolled-steel channel-section longitudinal members joined by tubular crossmembers welded in position. Tapered channel-section outriggers are used.
Square-section axle beams carry dropforged eight-stud hubs running on tapered-roller bearings. An advanced feature of the design is the fitting of Railko plastics-impregnated bushes in the spring and shackle eyes of the suspension. These bushes require no lubrication throughout their life, which is said to be longer than that of normal bronze bushes.
Two-leading-shoe brakes are provided with 15-in.-diameter drums on the 10and 11-ton models and 15f-in.-diameter drums on the 12-tonner, facing widths being 4+ in. and 5 in. respectively. Operation is by a single-line upright vacuum servo. The separate hand-brake linkage is equipped with self-lubricating bushes. Tyres are 8.25-20-in. (12or 14ply) on the lighter semi-trailers and 9.00-20 in. (12-ply) on the heaviest model.
Landing gear is a Davies Magnet single-speed vertical-lift oil-bath type with outrigged legs to give good stability. It carries plates in lieu of wheels.
The new range of single-axle semitrailers will be augmented shortly by a single-axle I4-ton model and a tandemaxle 17-ton unit These chassis will incorporate Aeon helper springs.
YORKSHIRE WOOLLEN HAD HIGHER RECEIPTS
TRAFFIC receipts were higher in
1958 than in the two previous years, despite a poor summer, said Mr. Raymond W. Birch, chairman of the Yorkshire Woollen District Transport Co., Ltd., at the annual meeting.
Last year was the first time for several years that the company avoided having to apply for fare increases. But, he said, if the economies being effected and the efforts to increase traffic proved insufficient, further cuts, or higher fares, would be inevitable.
Mr. Birch expressed the opinion that bus stations should be considered as extensions of the road system, in that they provided special "loading streets." He made specific reference to the new Cleckheaton bus station because it incorporated a previously existing road.
Bus stations had eventually to be paid for by passengers and should not be erected unless they were essential or could contribute to passenger convenience, with a consequent rise in traffic.
420