Railway Undercuts But Traffic Grows
19th June 1959
Page 18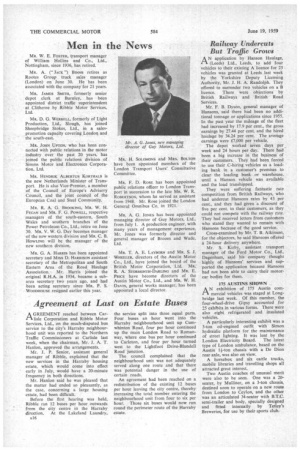 Page 18, 19th June 1959 —
Railway Undercuts But Traffic Grows
Close
AN application by Hanson Haulage, (Leeds) Ltd., Leeds, to add four vehicles to their existing A licence for 25 vehicles was granted at Leeds last week by the Yorkshire Deputy Licensing Authority, Mr. J. H. A. Randolph. They offered to surrender two vehicles on a B licence. There were objections by British Railways and British Road Services.
Mr. F. B. Dyson, general manager of Hansons, said there had been no additional tonnage or applications since 1955. In the past year the mileage of the fleet had increased by 17.9 per cent., the gross earnings by 27.44 per cent. and the hired haulage by 34,24 per cent. The average earnings were 17,000 per vehicle. • The depot worked seven days per week and 24 hours per day. There had • been a big increase in the business of their customers. They had been forced • to use their C-hiring vehicles as a loading bank in a customer's premises to clear the loading bank or warehouse, until a Hanson vehicle was available and the load transhipped.
They were suffering fantastic rate competition from British Railways, who had undercut Hansons rates by 43 per cent., and they had given a discount of five per cent, to their customers, as they could not compete with the railway rate. They had received letters from customers who stated they wanted to remain with Hansons because of the good service.
Cross-examined by Mr. T. B. Atkinson, for the objectors, he said Hansons offered a 24-hour delivery anywhere, Mr. S. Kirby, assistant transport manager of the Ford Motor Co., Ltd., Dagenham, said his company thought highly of Hansons' services and supported the application because Hansons had not been able to carry their motorcar bodies for them.
175 AUST1NS SHOWN
AN exhibition of 175 Austin commercial vehicles was staged at Longbridge last week. Of this number, the four-wheel-drive Gipsy accounted for 25 exhibits in various forms. There were also eight refrigerated and insulated vehicles.
A particularly interesting exhibit was a 3-ton oil-engined outfit with Simon hydraulic platform for the maintenance of street lighting. It was lent by the
London Electricity Board. The latest type of London ambulance, based on the Austin li-ton chassis with a De Dion rear axle, was also on view.
A horsebox and six cattle trucks, mobile libraries and travelling shops all attracted great interest.
Two Austin coaches of unusual merit were also to be seen. One was a 20seater, by Mulliner, on a 3-ton chassis, destined soon to operate on a new route from London to Ceylon, and the other was an articulated 34-seater with B.T.C. semi-trailer and body, specially designed and fitted internally by Tetley's Breweries, for use by their sports club.