Men in the News
19th June 1959
Page 18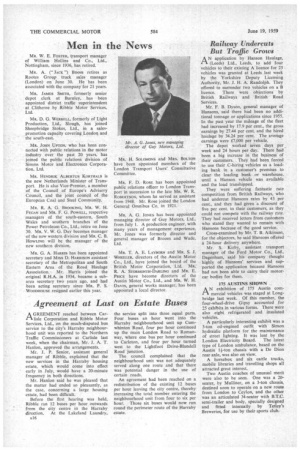 Page 18, 19th June 1959 —
Men in the News
Close
MR. W. E. FOSTER, transport manager of William Hollins and Co., Ltd., Nottingham, since 1936, has retired.
MR. A. (" JACK") BINNS retires as Rootes Group truck sales manager (London) on June 30. He has been associated with the company for 21 years.
MR. JAMES SMITH, formerly senior depot clerk at Burnley, has been appointed district traffic superintendent at Clitheroe by Ribble Motor Services, Ltd.
MR. D. G, WERRELL, formerly of Light Production, Ltd., Slough, has joined Sheepbridge Stokes, Ltd., in a salespromotion capacity covering London and the south-east.
MR. JOHN UPTON, who has been connected with public relations in the motor industry over the past 20 years, has joined the public relations division of Simms Motor and Electronics Corporation, Ltd.
M. HENDRIK ALBERTUS KORTHALS is
the new Netherlands Minister of Transport. He is also Vice-Premier, a member of the Council of Europe's Advisory Council, and the joint council of the European Coal and Steel Community.
MR. R. A. G. BROOKING, MR. W. H. FEGAN and MR. F. 0. POWELL, respective managers of the south-eastern, South Wales and southern branches of the Power Petroleum Co., Ltd., retire on June 30. MR. V. W. G. DAY becomes manager of the new western division and MR. C. B. HOWLING will be the manager of the new southern division.
MR. G. A. HARRIS has been appointed secretary and Miss D. HARRISON assistant secretary of the Metropolitan and South Eastern Area of the Road Haulage Association. Mr. Harris joined the original R.H.A. in 1934, became a subarea secretary two years ago, and had been acting secretary since Ma. P. S. WOODHOUSE resigned earlier this year. MR. H. SoLomoNs and MRS. BOLTON have been appointed members of the London Transport Users' Consultative Committee.
MR. F. D. ROSE has been appointed public relations officer to London Transport in succession to the late MR. W. R. ROBERTSON, whom he served as assistant from 1948. Mr. Rose joined the London General Omnibus Co. in 1921.
M. A. G. JONES has been appointed managing director of Guy Motors, Ltd., from July l. A production engineer, with many years of management experience, Mr. Jones was formerly director and general manager of Broom and Wade, Ltd.
MR. T. A. E. LAYBORN and MR. S. I. WHEELER, directors of the Austin Motor Co., Ltd., have joined the board of the British Motor Corporation, Ltd. MR. R. A. STOR1ONTI4-DARLIN6 and M. E. PRICE have become directors of the Austin Motor Co., Ltd., and MR. W. H. DAVIS, general works manager, has been appointed a local director.
Tags
People
:
F. D. ROSE
,
Burnley
,
A. G. JONES
,
S. I. WHEELER
,
W. R. ROBERTSON
,
JOHN UPTON
,
A. (" JACK") BINNS
,
W. H. FEGAN
,
JAMES SMITH
,
W. E. FOSTER
,
P. S. WOODHOUSE
,
W. H. DAVIS
,
M. HENDRIK ALBERTUS KORTHALS
,
Slough
,
D. HARRISON
,
C. B. HOWLING
,
G. A. HARRIS