Guy Warrior . Revised
19th June 1959
Page 17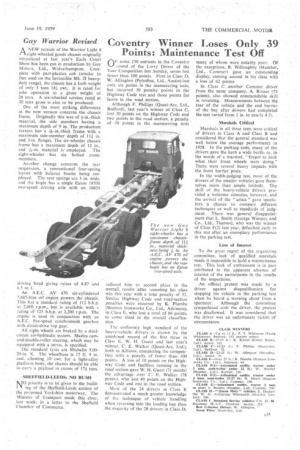 Page 17, 19th June 1959 —
Guy Warrior . Revised
Close
ANEW version of the Warrior Light 8 eight-wheeled goods c-hassis originally introduced at last year's Earls Court Show has been put in production by Guy Motors, Ltd., Wolverhampton. Complete with part-plastics cab (similar to that used on the Invincible Mk. II heavyduty range), the chassis has a kerb weight of only 5 tons 181 Cwt. It is rated for solo operation at a gross weight of 24 tons. A six-wheeled version rated. at 20 tons gross is also to be produced.
One of the most striking differences in the new version concerns the chassis frame. Originally this was of f-in.-thick material, .the side members having a maximum depth of 9 in. The production version has a .-A--in.-thick frame with a maximum side-member depth of 1 111 in. and 3-in. flanges. The six-wheeler chassis frame has a maximum depth of 12 in., and material is' employed. The eight-wheeler has six bolted crossmembers.
Another change concerns the rear suspension, a conventional four-spring layout with balance beams being employed. The rear springs are 3 in. wide, and the bogie has a single Eaton 18500 two-speed driving axle with an _18800 driving head. giving ratios of 8.87 and 6.5 to 1.
An A.E.C. AV 470 six-cylindered 7.685-litre oil engine powers the chassis. This has a standard rating of 112 h.h.p. at 2,000 r.p.m., but is available with. a rating of 125 b.h.p. at 2,200 r.p.m. The engine is used in conjunction with 'an A.E.C. five-speed synchromesh gearbox with direct-drive top gear.
All eight wheels are braked by a dualcircuit air-hydraulic system. Marles camand-double-roller steering, which may be equipped with a servo, is specified.
The standard tyres are Michelin 9.0020-in. X. The wheelbase is 17 ft. 9 in. and, allowing 10 cwt. for a light-alloy platform body, the chassis should be able to carry a payload in excess of 17+ tons.
SHEFFIELD-LEEDS: NO RUSH MO priority is to be given to the build 1 ing of the Sheffield-Leeds section of the proposed Yorkshire motorway. The Minister of Transport made this clear, last week, in a letter to the Sheffield Chamber of Commerce.