Tax Freed on SnowClearing Vehicles
19th June 1959
Page 16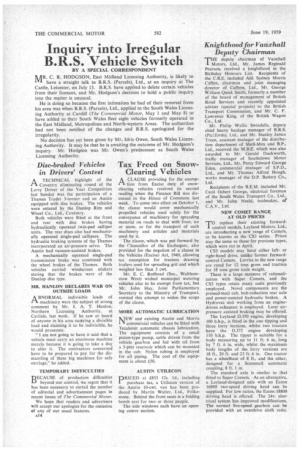 Page 16, 19th June 1959 —
Tax Freed on SnowClearing Vehicles
Close
A CLAUSE providing for the exempri tion from Excise duty of snowclearing vehicles received its second reading when the Finance Bill was discussed in the House of Commons last week. To come into effect on October I, the clause would cover mechanically propelled vehicles used solely for the conveyance of machinery for spreading material on roads to deal with frost, ice or snow, or for the transport of such machinery and articles and materials used by it.
The clause,' which was put forward by the Chancellor of .the Exchequer, also provided for the negation of a clause in the Vehicles (Excise) Act, 1949, allowing tax exemption for tractors drawing trailers used for spreading grit and which weighed less than 5 cwt.
Mr. E. C. Redhead (Soc., Walthamstow West) wished municipal watering vehicles also to be exempt from tax, but Mr. John Hay, Joint Parliamentary Secretary to the Ministry of Transport, resisted this attempt to widen the scope of the clause.
MORE AUTOMATIC LUBRICATION
NEW and existing Austin and Morris commercial vehicles can be fitted with Tecalemit automatic chassis lubrication. The equipment consists of a small piston-type pump, cable driven from the vehicle gearbox and fed with oil from a 3-pint reservoir which can be mounted in the cab. Nylon tubing is employed for all piping. The cost of the equipment is about 150.
AUSTIN UTILECON
PRICED at 053 12s. Id., including I purchase tax, a Utilecon version of the Austin 10-cwt. van has been produced by Martin Walter, Ltd., Folkestone. Behind the front seats is a folding bench seat for two or three people.
The side windows each have an opening centre section.