Knighthood for Vauxhall Deputy Chairman
19th June 1959
Page 16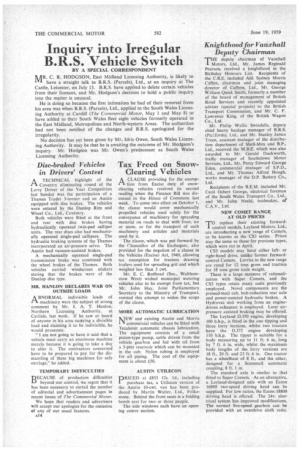 Page 16, 19th June 1959 —
Knighthood for Vauxhall Deputy Chairman
Close
THE deputy chairman of Vauxhall Motors, Ltd., Mr. James Reginald Pearson, received a knighthood in the Birthday Honours List. Recipients of the C.B.E. included Ald. Sydney Morris Caffyn, chairman and joint managing director of Caffyns, Ltd., Mr. George W,Iliam Quick Smith, formerly a member of the board of management of British Road Services and recently appointed adviser (special projects) to the British Transport Commission, and Mr. C. F. Lawrence King, of the British Wagon Co., Ltd.
Mr. Philip Wallis Swindells, deputy chief heavy haulage manager of B.R.S. (Pierfords), Ltd., and Mr. Stanley James Treen, assistant manager of the distribution department of Shell-Mex and B.P., Ltd., received the M.B.E. which was also awarded to Mr. Gerald Duckworth, traffic manager of Southdown Motor Services, Ltd.. Mr. Percy Edward George Eden, commercial manager of S.P.D., Ltd., and Mr. Thomas Alfred Hough, works manager of the D.P. Battery Co., Ltd.
Recipients of the B.E.M. included Mr. Cecil Osbert George, electrical foreman of the South Wales Transport Co., Ltd., and Mr. John Neeld, toolmaker, or C.A.V., Ltd.
NEW COMET RANGE AT OLD PRICES TO replace their existing forward' control models, Leyland Motors, Ltd., are introducting a new range of Comets, to be known as the CS3 series. Prices stay the same as those for previous types, which were cut in April.
CS3 models may have either leftor right-hand drive, unlike former forwardcontrol Comets. Lorries in the new range are rated for 12 tons gross and tractor,s for 18 tons gross train weight.
There is a large measure of rationalization with Super Comets, and the CS3 types retain many units previously employed. Novel components are the pressed-steel cab, hub-reduction rear axle and power-assisted hydraulic brakes. A Hydrovac unit working from an enginedriven exhauster is employed. Later airpressure assisted braking may be offered.
The Leyland 0.350 engine, developing 100 b.h.p., is fitted in the one tipping and three lorry versions, whilst two tractors have the 0.375 engine developing 110 b.h.p. The tipper is suitable for a body measuring up to 11 ft. 6 in. long by 7 ft. 6 in. wide, whilst the maximum body lengths of the lorry versions are 18 ft., 20 ft. and 23 ft. 6 in. One tractor has a wheelbase of 8 ft., and the other, designed for a Scammell automatic coupling, 8 ft. 1 in.
The standard axle is similar to that fitted to Super Comets. As an alternative, a Leyland-designed axle with an Eaton 16800 two-speed driving head can be supplied. For low ratios, the Eaton 18800 driving head is offered. The 24v.• electrical system has improved modifications. The normal five-speed gearbox can be provided with an overdrive sixth ratio.