Scope for Enterprise
19th June 1959
Page 14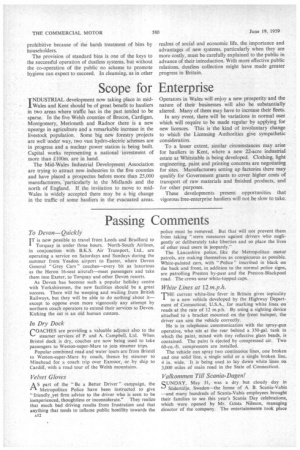 Page 14, 19th June 1959 —
Scope for Enterprise
Close
INDUSTRIAL development now taking place in mid'Wales and Kent should be of great benefit to hauliers in two areas where traffic has in the past tended to be sparse. In the five Welsh counties of Brecon, Cardigan, Montgomery, Merioneth and Radnor there is a new upsurge in agriculture and a remarkable increase in the livestock. population. Some big new forestry projects are well under way, two vast hydro-electric schemes are in progress and a nuclear power station is being built. Capital works representing a national investment of more than £100m. are in hand.
The Mid-Wales Industrial Development Association are trying to attract new industries to the five counties and have placed a prospectus before more than 25,000 manufacturers, -particularly in the Midlands and the north of England. If the invitation to move to midWales is widely accepted there may be a big change in the traffic of some hauliers in the evacuated areas. Operators in Wales will enjoy a new prosperity and the nature of their businesses will also be substantially altered. Many of them may have to increase their fleets.
In any event, there will be variations in normal user which will require to be made regular by applying for new licences. This is the kind of involuntary change to which the Licensing Authorities give sympathetic consideration.
To a lesser extent, similar circumstances may arise for hauliers in Kent, where a new 22-acre industrial estate at Whitstable is being developed. Clothing, light engineering, paint and printing concerns are negotiating for sites. Manufacturers setting up factories there may qualify for Government grants to cover higher costs of transport of raw materials and finished products, and for other purposes.
These developments present opportunities that vigorous free-enterprise hauliers will not be slow to take.