Passing Comments
19th June 1959
Page 14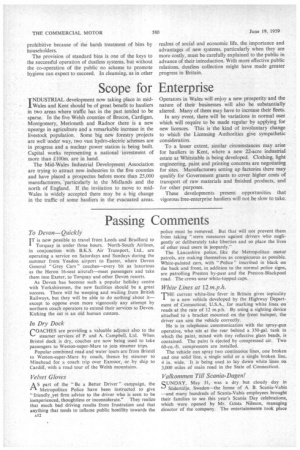 Page 15
Page 14, 19th June 1959 —
Passing Comments
Close
To Devon—Quickly
TT is now possible to travel from Leeds and Bradford to 1 Torquay in under three hours. North-South Airlines, in conjunction with B.K.S. Air Transport, Ltd., are operating a service on Saturdays and Sundays during the summer from Yeadon airport to Exeter, where Devon General "Grey Cars" coaches—every bit as luxurious as the Heron 16-seat aircraft—meet passengers and take them into Exeter, to Torquay and other Devon resorts.
As Devon has become such a popular holiday centre with Yorkshiremen, the new facilities should be a great success. There will be weeping and wailing from British Railways, but they will be able to do nothing about it— except to oppose even more vigorously any attempt by northern coach operators to extend their services to Devon. Kicking the cat is an old human custom.
In Dry Dock
COACHES are providing a valuable adjunct also to the steamer services of P. and A. Campbell, Ltd. When Bristol dock is dry, coaches are now being used to take passengers to Weston-super-Mare to join steamer trips.
Popular combined road and water tours are from Bristol to Weston-super-Mare by coach, thence by steamer to Minehead for a coach trip over Exmoor, or by ship to Cardiff, with a road tour of the Welsh mountains.
Velvet Gloves
A' part of the "Be a Better Driver" campaign, the Metropolitan Police have been instructed to give " friendly.yet firm advice to the driver who is seen to be inexperienced, thoughtless or inconsiderate." They realize that much bad driving results from frustration and that anything that tends to inflame public hostility towards the
police must be removed. But that will not prevent them frOm taking "stern measures against drivers who negligently or deliberately take liberties and so place the lives of other road users in jeopardy."
The Lancashire police, like the Metropolitan motor patrols, are making themselves as conspicuous as possible. White-painted cars, with " Police " inscribed in black on the back and front, in addition to the normal police signs, are patrolling Preston by-pass and the Preston-Blackpool road. The crews wear white-topped caps.
White Lines at 12 m.p.h.
THE current white-line fever in Britain gives topicality 1to a new vehicle developed by the Highway Department of Connecticut, U.S.A., for marking white lines on roads at the rate of 12 m.p.h. By using a sighting device attached to a bracket mounted on the front bumper, the driver can aim the vehicle correctly.
He is in telephonic communication with the spray-gun operative, who sits at the rear behind a 350-gal. tank in which the paint, mixed with tiny reflective glass beads, is contained. The paint is ejected by compressed air. Two 60-cu.-ft. compressors are installed.
The vehicle can spray two continuous lines, one broken and one solid line, a single solid or a single broken line, 4 in. wide. It is being used to lay down white lines on 3,000 miles of main road in the State of Connecticut.
Valkommen Till Scania-Dagen!
QUNDAY, May 31, was a dry but cloudy day in
Sodertalje, Sweden—the home of A. B. Scania-Vabis —and many hundreds of Scania-Vabis employees brought their families to see this year's Scania Day celebrations, which were opened by Mr. Gasta Nilsson, managing director of the company. The entertainments took place in the open air, close to the factory, all arrangements having been made by the public relations department, headed by Mr. Kai Sandell.
As one of the associated companies of Scania-Vabis handles Volkswagen car sales throughout Sweden, it is not surprising that suitable emphasis was put upon the Volkswagen car and its possibilities. For example, during the course of one event no fewer than 73 people were deposited in and on one Volkswagen car (surely a world record) which was then driven away—after the passengers had dismounted. A Volkswagen rodeo was also held, several well-known Swedish rally drivers participating, and a procession of Scania-Vabis vehicles, including a new airsprung bus, took place.
Highlight of the day was a dare-devil act at the top of a 150-ft. mast by two men and a girl with a bicycle, one of the men being a Scania-Vabis transport driver when he is not up the pole. • This heart-stopping performance was complicated by a somewhat high wind, to the strains of "Colonel Bogey."
As a finale a Swedish world champion archer shot at several targets to produce the winning number in a lottery for a new Volkswagen car, which was collected on the spot by the somewhat surprised winner, who, earlier in the day, had hitch-hiked to Sodertiilje.
Welcoming the Bus
I\4ANY of the inhabitants of Kwa Mashu have recently
• been moved to a new housing estate from the slums • they previously occupied in Durban. A bus service has been specially introduced for their benefit, with the fares subsidized from the Native Transport Levy Fund so that they are not heavily committed financially by the change.
Helping in this transport are 16 post-war Guy Arab buses, and as will be seen from the illustration, the Mark 111— allowing for design changes—is almost as good as new. Most of the vehicles concerned have, indeed, covered an average of 350,000 miles each before going into this service. They were purchased by the Public Utility Transport Corporation shortly after the war as part of a series of orders for Guy vehicles totalling 400, and of these 150 are still in operation by the Corporation. Those used at Kwa Mashu originally had bodies built by the Motor Bodies Construction Co., but they have since been rebodied in the workshops of the P.U.T.C. Their new task is by no means light and that it is thoroughly appreciated is obvious.