Strategic defence review
19th July 2012
Page 32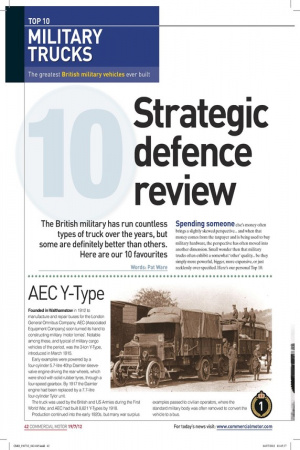 Page 33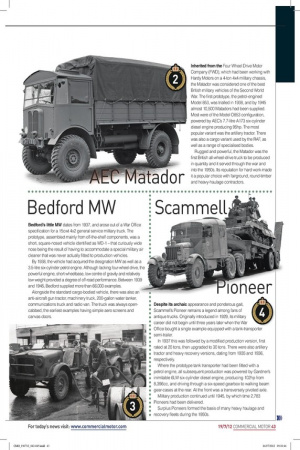 Page 34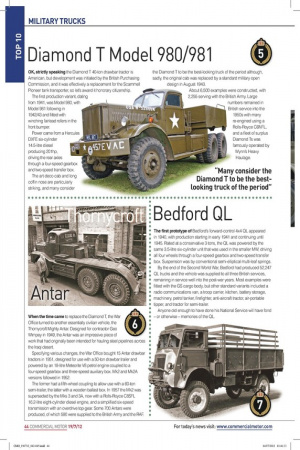 Page 35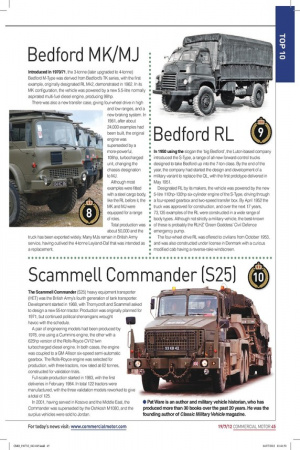 Page 32, 19th July 2012 —
Strategic defence review
Close
The British military has run countless types of truck over the years, but some are definitely better than others. Here are our 10 favourites
Words: Pat Ware Spending someone else's money often brings a slightly skewed perspective... and when that money comes from the taxpayer and is being used to buy military hardware, the perspective has often moved into another dimension. Small wonder then that military trucks often exhibit a somewhat 'other' quality... be they simply more powerful, bigger, more expensive, or just recklessly over-speciied. Here's our personal Top 10.
1
AEC Y-Type
Founded in Walthamstow in 1912 to manufacture and repair buses for the London General Omnibus Company, AEC (Associated Equipment Company) soon turned its hand to constructing military 'motor lorries'. Notable among these, and typical of military cargo vehicles of the period, was the 3-ton Y-Type, introduced in March 1915.
Early examples were powered by a four-cylinder 5.7-litre 40hp Daimler sleeve valve engine driving the rear wheels, which were shod with solid rubber tyres, through a four-speed gearbox. By 1917 the Daimler engine had been replaced by a 7.7-litre four-cylinder Tylor unit.
The truck was used by the British and US Armies during the First World War, and AEC had built 8,821 Y-Types by 1918.
Production continued into the early 1920s, but many war surplus examples passed to civilian operators, where the standard military body was often removed to convert the vehicle to a bus.
2
AEC Matador
Inherited from the Four Wheel Drive Motor Company (FWD), which had been working with Hardy Motors on a 4-ton 4x4 military chassis, the Matador was considered one of the best British military vehicles of the Second World War. The first prototype, the petrol-engined Model 853, was trialled in 1938, and by 1945 almost 10,500 Matadors had been supplied. Most were of the Model O853 configuration, powered by AEC's 7.7-litre A173 six-cylinder diesel engine producing 95hp. The most popular variant was the artillery tractor. There was also a cargo variant used by the RAF, as well as a range of specialised bodies.
Rugged and powerful, the Matador was the first British all-wheel-drive truck to be produced in quantity and it served through the war and into the 1950s. Its reputation for hard work made it a popular choice with fairground, round-timber and heavy-haulage contractors.
3
Bedford MW
Bedford's little MW dates from 1937, and arose out of a War Office specification for a 15cwt 4x2 general service military truck. The prototype, assembled mainly from off-the-shelf components, was a short, square-nosed vehicle identified as WD-1 – that curiously wide nose being the result of having to accommodate a special military air cleaner that was never actually fitted to production vehicles.
By 1938, the vehicle had acquired the designation MW as well as a 3.5-litre six-cylinder petrol engine. Although lacking four-wheel drive, the powerful engine, short wheelbase, low centre of gravity and relatively low weight provided a degree of off-road performance. Between 1939 and 1945, Bedford supplied more than 66,000 examples.
Alongside the standard cargo-bodied vehicle, there was also an anti-aircraft gun tractor, machinery truck, 200-gallon water tanker, communications truck and radio van. The truck was always opencabbed, the earliest examples having simple aero screens and canvas doors.
Scammell Pioneer
4
Despite its archaic appearance and ponderous gait, Scammell's Pioneer remains a legend among fans of antique trucks. Originally introduced in 1929, its military career did not begin until three years later when the War Office bought a single example equipped with a tank-transporter semi-trailer. In 1937 this was followed by a modified production version, first rated at 20 tons, then upgraded to 30 tons. There were also artillery tractor and heavy recovery versions, dating from 1935 and 1936, respectively. Where the prototype tank transporter had been fitted with a petrol engine, all subsequent production was powered by Gardner's inimitable 6LW six-cylinder diesel engine, producing 102hp from 8,396cc, and driving through a six-speed gearbox to walking beam gear-cases at the rear. At the front was a transversely pivoted axle. Military production continued until 1945, by which time 2,783 Pioneers had been delivered.
Surplus Pioneers formed the basis of many heavy haulage and recovery fleets during the 1950s.
5
Diamond T Model 980/981
OIC, strictly speaking the Diamond T 40-ton drawbar tractor is American, but development was initiated by the British Purchasing Commission, and it was effectively a replacement for the Scammell Pioneer tank transporter, so let's award it honorary citizenship.
The first production variant, dating from 1941, was Model 980, with Model 981 following in 1942/43 and fitted with winching fairlead rollers in the front bumper.
Power came from a Hercules DXFE six-cylinder 14.5-litre diesel producing 201hp, driving the rear axles through a four-speed gearbox and two-speed transfer box.
The art deco cab and long coffin nose are particularly striking, and many consider the Diamond T to be the best-looking truck of the period although, sadly, the original cab was replaced by a standard military open design in August 1943.
About 6,500 examples were constructed, with 2,255 serving with the British Army. Large numbers remained in British service into the 1950s with many re-engined using a Rolls-Royce C6NFL, and a fleet of surplus Diamond Ts was famously operated by Wynn's Heavy Haulage.
Thornycroft Antar
When the time came to replace the Diamond T, the War Office turned to another essentially civilian vehicle, the Thornycroft Mighty Antar. Designed for contractor Geo Wimpey in 1949, the Antar was an impressive piece of work that had originally been intended for hauling steel pipelines across the Iraqi desert.
Specifying various changes, the War Office bought 15 Antar drawbar tractors in 1951, designed for use with a 50-ton drawbar trailer and powered by an 18-litre Meteorite V8 petrol engine coupled to a four-speed gearbox and three-speed auxiliary box. Mk2 and Mk2A versions followed in 1952.
6
The former had a fifth-wheel coupling to allow use with a 60-ton semi-trailer, the latter with a wooden ballast box. In 1957 the Mk2 was superseded by the Mks 3 and 3A, now with a Rolls-Royce C8SFL 16.2-litre eight-cylinder diesel engine, and a simplified six-speed transmission with an overdrive top gear. Some 700 Antars were produced, of which 590 were supplied to the British Army and the RAF.
7
Bedford QL
The first prototype of Bedford's forward-control 4x4 QL appeared in 1940, with production starting in early 1941 and continuing until 1945. Rated at a conservative 3 tons, the QL was powered by the same 3.5-litre six-cylinder unit that was used in the smaller MW, driving all four wheels through a four-speed gearbox and two-speed transfer box. Suspension was by conventional semi-elliptical multi-leaf springs.
By the end of the Second World War, Bedford had produced 52,247 QL trucks and the vehicle was supplied to all three British services, remaining in service well into the post-war years. Most examples were fitted with the GS cargo body, but other standard variants included a radio communications van, a troop carrier, kitchen, battery storage, machinery, petrol tanker, firefighter, anti-aircraft tractor, air-portable tipper, and tractor for semi-trailer.
Anyone old enough to have done his National Service will have fond – or otherwise – memories of the QL.
8
Bedford MK/MJ
Introduced in 1970/71, the 3-tonne (later upgraded to 4-tonne) Bedford M-Type was derived from Bedford's TK series, with the first example, originally designated RL Mk2, demonstrated in 1962. In its MK configuration, the vehicle was powered by a new 5.5-litre normally aspirated multi-fuel diesel engine, producing 98hp.
There was also a new transfer case, giving four-wheel drive in high and low ranges, and a new braking system. In 1981, after about 24,000 examples had been built, the original engine was superseded by a more-powerful, 108hp, turbocharged unit, changing the chassis designation to MJ.
Although most examples were fitted with a steel cargo body, like the RL before it, the MK and MJ were equipped for a range of roles.
Total production was about 50,000 and the truck has been exported widely. Many MJs remain in British Army service, having outlived the 4-tonne Leyland-Daf that was intended as a replacement.
9
Bedford RL
In 1950 using the slogan the 'big Bedford', the Luton-based company introduced the S-Type, a range of all-new forward-control trucks designed to take Bedford up into the 7-ton class. By the end of the year, the company had started the design and development of a military variant to replace the QL, with the first prototype delivered in May 1951.
Designated RL by its makers, the vehicle was powered by the new 5-litre 110hp-130hp six-cylinder engine of the S-Type, driving through a four-speed gearbox and two-speed transfer box. By April 1952 the truck was approved for construction, and over the next 17 years, 73,135 examples of the RL were constructed in a wide range of body types. Although not strictly a military vehicle, the best-known of these is probably the RLHZ 'Green Goddess' Civil Defence emergency pump.
The four-wheel drive RL was offered to civilians from October 1953, and was also constructed under license in Denmark with a curious modified cab having a reverse-rake windscreen.
10
Scammell Commander (S25)
The Scammell Commander (S25) heavy equipment transporter (HET) was the British Army's fourth generation of tank transporter.
Development started in 1968, with Thornycroft and Scammell asked to design a new 55-ton tractor. Production was originally planned for 1971, but continued political shenanigans wrought havoc with the schedule.
A pair of engineering models had been produced by 1978, one using a Cummins engine, the other with a 625hp version of the Rolls-Royce CV12 twin turbocharged diesel engine. In both cases, the engine was coupled to a GM Allison six-speed semi-automatic gearbox. The Rolls-Royce engine was selected for production, with three tractors, now rated at 62 tonnes, constructed for validation trials.
Full-scale production started in 1983, with the first deliveries in February 1984. In total 122 tractors were manufactured, with the three validation models reworked to give a total of 125.
In 2001, having served in Kosovo and the Middle East, the Commander was superseded by the Oshkosh M1080, and the surplus vehicles were sold to Jordan.
l Pat Ware is an author and military vehicle historian, who has produced more than 30 books over the past 20 years. He was the founding author of Classic Military Vehicle magazine.