AR BRITISH COMING
19th July 1990
Page 94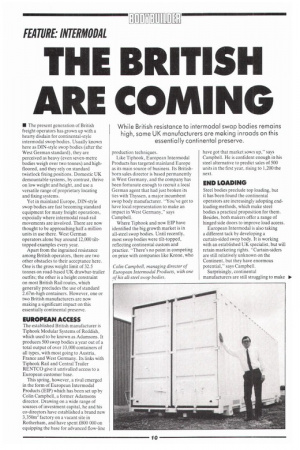 Page 96
Page 94, 19th July 1990 —
AR BRITISH COMING
Close
While British resistance to intermodal swap bodies remains high, some UK manufacturers are making inroads on this essentially continental preserve.
• The present generation of British freight operators has grown up with a hearty disdain for continental-style intermodal swop bodies. Usually known here as DIN-style swop bodies (after the West German standard), they are perceived as heavy (even seven-metre bodies weigh over two tonnes) and highfloored, and they rely on standard twistlock fixing positions. Domestic UK demountable systems, by contrast, thrive on low weight and height, and use a versatile range of proprietary locating and fixing systems.
Yet in mainland Europe, DIN-style swop bodies are fast becoming standard equipment for many freight operations, especially where intermodal road-rail movements are involved. There are now thought to be approaching half a million units in use there. West German operators alone buy around 12,000 tilttopped examples every year.
Apart from the ingrained resistance among British operators, there are two other obstacles to their acceptance here. One is the gross weight limit of 32.5 tonnes on road-based UK drawbar-trailer outfits; the other is a height constraint on most British Rail routes, which generally precludes the use of standard 2.67m-high containers. However, one or two British manufacturers are now making a significant impact on this essentially continental preserve.
EUROPEAN ACCESS
The established British manufacturer is Tiphook Modular Systems of Reddish, which used to be known as Adamsons. It produces 500 swop bodies a year out of a total output of over 10,000 containers of all types, with most going to Austria. France and West Germany. Its links with Tiphook Rail and Central Trailer RENTCO give it unrivalled access to a European customer base.
This spring, however, a rival emerged in the form of European Intermodal Products (EIP) which has been set up by Cohn Campbell, a former Adamsons director. Drawing on a wide range of sources of investment capital, he and his co-directors have established a brand new 3,350m2 factory on a vacant site in Rotherham, and have spent £800 000 on equipping the base for advanced flow-line
production techniques.
Like Tiphook, European Intermodal Products has targeted mainland Europe as its main source of business. Its Britishborn sales director is based permanently in West Germany, and the company has been fortunate enough to recruit a local German agent that had just broken its ties with Thyssen, a major incumbent swop body manufacturer. "You've got to have local representation to make an impact in West Germany," says Campbell.
Where Tiphook and now EIP have identified the big growth market is in all-steel swop bodies. Until recently, most swop bodies were tilt-topped, reflecting continental custom and practice. "There's no point in competing on price with companies like Krone, who have got that market sown up," says Campbell. He is confident enough in his steel alternative to predict sales of 500 units in the first year, rising to 1,200 the next.
END LOADING
Steel bodies preclude top loading, but it has been found the continental operators are increasingly adopting endloading methods, which make steel bodies a practical proposition for them. Besides, both makers offer a range of hinged side doors to improve load access.
European Intermodal is also taking a different tack by developing a curtain-sided swop body. It is working with an established UK specialist, but will retain marketing rights. "Curtain-siders are still relatively unknown on the Continent, but they have enormous potential," says Campbell.
Surprisingly, continental manufacturers are still struggling to make 1r • he switch to steel bodies, which require different construction methods involving more jig work and welding. The UK contenders are pressing their advantage hard. "Continental users are very qualityconscious," says Campbell "You simply can't get away with a second-rate product."
Anyone wanting to sell these bodies for true intermodal use is more or less obliged to obtain approval according to various European-wide EN designations — notably EN 284. This involves extensive structural testing, including Lifting, stretching and pressure trials.
About 68% of DIN-style swop bodies are thought to be based in West Germany, so the state railway operator (Deutsche Bundesbahn) has a powerful influence on design standards. In theory, apart from DB, only French Railways (plus its piggyback-associate Novatrans and container associates CNC) can conduct the tests, although in practice British Rail now has sanction to do testing on their behalf. European Intermodal has used this route to obtain type-approval for its current range, while Tiphook does its own testing on site under British Rail supervision.
UNEQUAL-LENGTH BOXES
Strength is one thing; size is another. In its short production life European Intermodal has already been building boxes measuring 7.15, 7.45 and 7.82 metres (all mentioned in the EN standard). Some Dutch drawbar operators opt for unequal-length boxes, with the longer measuring 8.22 metres. Height also varies; some operators are demanding 2.75-metre tall bodies, says Campbell, especially in northern Europe. The Brussels-based CEN committee on container standards is supposed to be rationalising these variations, but progress is slow.
Meanwhile, there is nothing to stop the established UK demountable-body manufacturers from building to the EN dimensions, without necessarily having the bodies fully tested. Ray Smith Demountables has explored the subject extensively, even to the point of making moves towards full testing. Abel's equipment is dimensionally closest to the standard, and managing director Mike Tweddle forsees an era when there might be two body standards one for domestic use and the other for multi-modal work. The attraction is that the same road-chassis could carry both.
PHILOSOPHICAL LEAP
However, large-scale adoption of DIN swop bodies for domestic UK use is still a long way off, and even international use by British operators awaits a philosophical leap. Major builders such as Fruehauf are adopting a wait-and-see approach — even though Fruehauf's German associate Ackermann is already a leader in swop-body manufacture. So the field is currently being left to the specialists.
British Rail is helping by opening more routes to the 2.67m-high containers (currently only the Glasgow/North West to Harwich route is available). "The Channel Tunnel will help change ideas too," says Campbell.
In the words of Tiphook's John Lomas: "Make no mistake — the Europeans will be coming here in strength. British manufacturers need to work together to ensure that we can match whatever they have to offer.
7 by Peter Rowlands