Drug company busted
19th July 1990
Page 20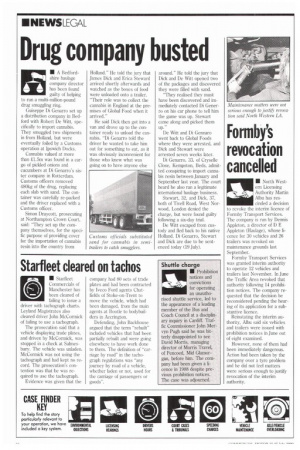 Page 20, 19th July 1990 —
Drug company busted
Close
• A Bedfordshire haulage company director has been found guilty of helping to run a multi-million-pound drug smuggling ring.
Guiseppe Di Genarro set up a distribution company in Bedford with Robert De Witt, specifically to import cannabis. They smuggled two shipments in from Holland, but were eventually foiled by a Customs operation at Ipswich Docks.
Cannabis valued at more than £1.5m was found in a cargo of pickled onions and cucumbers at Di Genarro's sister company in Rotterdam. Customs officers removed 480kg of the drug, replacing each slab with sand. The container was carefully re-packed and the driver replaced with a Customs officer.
Simon Dravcott, prosecuting at Northampton Crown Court, said: "They set up the company themselves, for the specific purpose of providing cover for the importation of cannabis resin into the country from
6 6
Holland." He told the jury that James Dick and Erica Steward arrived shortly afterwards and watched as the boxes of food were unloaded onto a trailer. "Their role was to collect the cannabis in England at the premises of Global Food when it arrived."
He said Dick then got into a van and drove up to the container ready to unload the cannabis. "Di Genarro told the driver he wanted to take him out for something to eat, as it was obviously inconvenient for those who knew what was going on to have anyone else around." He told the jury that Dick and De Witt opened two of the packages and discovered they were filled with sand.
"They realised they must have been discovered and immediately contacted Di Generro on his car phone to tell him the game was up. Stewart came along and picked them up."
De Witt and Di Gennaro went back to Global Foods where they were arrested, and Dick and Stewart were arrested seven weeks later.
Di Genarro, 33, of Cryselle Close, Kenapston, Beds, admitted conspiring to import cannabis resin between January and September last year. The court heard he also ran a legitimate international haulage business.
Stewart, 32, and Dick, 37, both of Tivell Road, West Norwood, London denied the charge, but were found guilty following a six-day trial.
De Witt escape.d from custody and fled back to his native Holland. Di Genarro, Stewart and Dick are due to be sentenced today (19 July).