DEVONSHIRE CREAM
19th July 1990
Page 102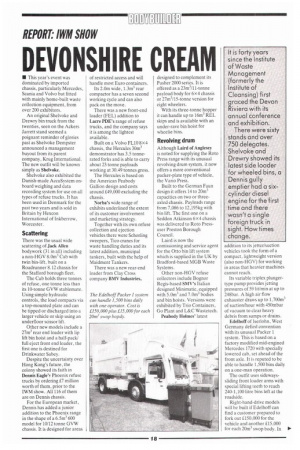 Page 104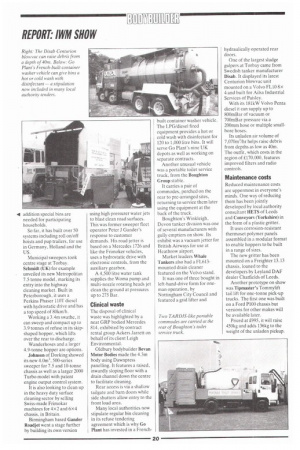 Page 102, 19th July 1990 —
DEVONSHIRE CREAM
Close
• This year's event was dominated by imported chassis, particularly Mercedes, Scania and Volvo but fitted with mainly home-built waste collection equipment, from over 200 exhibitors.
An original Shelvoke and Drewry bin truck from the twenties, seen on the Ackers Jarrett stand seemed a poignant reminder of glories past as Shelvoke Dempster announced a management buyout from its parent company, Krug International, The new outfit will be known simply as Shelvoke.
Shelvoke also exhibited the Danish-made AccuSystem onboard weighing and data recording system for use on all types of refuse trucks. It has been used in Denmark for the past two years and is sold in Britain by Hexcon International of Inkberrow, Worcester.
Scattering
There was the usual wide scattering of Jack Allen bodywork (31 in all) including a non-HGV 8.0m3 Cub with twin bin-lift, built on a Roadrunner 8.12 chassis for the Stafford borough fleet.
The Cub holds three tonnes of refuse, one tonne less than its 10-tonne GVW stablemate. Using simple hydraulic controls, the load compacts via a top-mounted plate and can be tipped or discharged into a larger vehicle or skip using an underfloor scissor lift.
Other new models include a 27m3 rear end loader with lip lift bin hoist and a half-pack/ full eject front end loader, the first one is destined for Drinkwater Sabey.
Despite the uncertainty over Hong Kong's future, the colony showed its faith in Dennis Eagle's Phoenix refuse trucks by ordering £7 million worth of them, prior to the IWM show. All 116 of them are on Dennis chassis.
For the European market, Dennis has added a junior addition to the Phoenix range in the shape of a 6.5m3 600 model for 10/12 tonne GVW chassis. It is designed for areas
of restricted access and will handle most Euro containers.
Its 2.0m wide, 1.3m3 rear compactor has a seven second working cycle and can also pack on the move.
There was a new front-end loader (FEL) addition to Lacre PDE's range of refuse trucks, and the company says it is among the lightest available.
Built on a Volvo FL10 8x4 chassis, the Hercules 30m3 demonstrator has 3.5 tonnerated forks and is able to carry about 23 tonne payloads working at 30.49 tonnes gross.
The Hercules is based on the American Peabody Gallion design and costs around £49,000 excluding the chassis.
Norba's wide range of exhibits underlined the extent of its customer involvement and marketing strategy.
Together with its own refuse collection and ejection vehicles there were Schorling sweepers, Tico cranes for waste handling duties and its latest addition, municipal tankers, built with the help of Maidment Tankers.
There was a new rear-end Loader from Clay Cross company BMV Industries,
designed to complement its Pusher 2000 series. It is offered as a 23m3/11-tonne payload body for 6 x 4 chassis or 27m3/15-tonne version for eight wheelers.
With its three-tonne hopper it can handle up to 16m3 REL skips and is available with an under-rave bin hoist for wheelie bins.
Revolving drum
Although Laird of Anglesey is noted for supplying the Roto Press range with its unusual revolving drum system, it now offers a more conventional packer-plate type of vehicle, the Vario Press.
Built to the German Faun design it offers 14 to 20m3 capacities on two or threeaxled chassis. Payloads range from 7,086 to 12,195kg with bin lift. The first one on a Seddon Atkinson 6x4 chassis was delivered to Roto Pressuser Preston Borough Council.
Laird is now the comissioning and service agent for the Otto bin lift system which is supplied in the UK by Bradford-based MOB Waste Systems.
Other non-HGV refuse collectors include Bognor Regis-based SMV's Italian designed Minimatic, equipped with 5.0m3 and 7.0m3 bodies and bin hoists. Versions were exhibited by Trio Containers, Go Plant and L&C Wastetech.
Peabody Holmes' latest addition to its jetter/suction vehicles took the form of a compact, lightweight version (also non-HGV) for working in areas that heavier machines cannot reach.
Its variable triplex plungertype pump provides jetting pressures of 59 lit/min at up to 248bar. A high air flow exhauster draws up to 1,700m3 of suction/hour with 450mbar of vacuum to clear heavy debris from sumps or drains.
Edelhoff of Iserlohn, West Germany defied convention with its unusual Packer 1 system. This is based on a factory modified mid-engined Mercedes 1720 with specially lowered cab, set ahead of the front axle. It is reputed to be able to handle 1,500 bins daily on a one-man operation.
The outfit uses sidewayssliding front loader arms with special lifting teeth to reach 240-1,100 litre bins left at the roadside.
Right-hand-drive models will be built if Edelhoff can find a customer prepared to fork out £150,000 for the vehicle and another £15,000 for each 20m3 swop body. In
• addition special bins are needed for participating households.
So far, it has built over 50 systems including roll on/off hoists and pup trailers, for use in Germany, Holland and the US.
Municipal sweepers took centre stage at Torbay. Schmidt (UK) for example unveiled its new Metropolitan 7.5 tonne model, marking its entry into the highway cleaning market. Built in Peterborough, it uses a Perkins Phaser 110T diesel with hydrostatic drive and has a top speed of 80km/h.
Working a 3.4m swathe, it can sweep and compact up to 3.9 tonnes of refuse in its skipshaped hopper, which lifts over the rear to discharge.
Wanderhoses and a larger 4.9-tonne hopper are options.
Johnson of Dorking showed its new 4.0m, 500-series sweeper for 7.5 and 10-tonne chassis as well as a larger 2000 Turbo model with patent engine output control system.
It is also looking to clean up in the heavy duty surface cleaning sector by selling Swiss-made Frimokar machines for 4x2 and 6 x 4 chassis, in Britain.
Birmingham based Gander Roadjet went a stage further by building its own version using high pressurer water jets to blast clean road surfaces. This was former sweeper fleet operator Peter J Gander's response to customer demands. His road jetter is based on a Mercedes 1726 and like the Frimoker vehicles, uses a hydrostatic drive with electronic controls, from the auxiliary gearbox.
A 4,500 litre water tank supplies the Woma pump and multi-nozzle rotating heads jet clean the ground at pressures up to 275 Bar.
Clinical waste
The disposal of clinical waste was highlighted by a neat GRP bodied Mercedes 814, exhibited by contract rental group Ackers Jarrett on behalf of its client Leigh Environmental.
Oldbury bodybuilder Bevan Motor Bodies made the 4.3m body using Dawnpress panelling. It features a raised, inwardly sloping floor with a drain channel down the centre to facilitate cleaning.
Rear access is via a shallow tailgate and barn doors while side shutters allow entry to the front load area.
Many local authorities now stipulate regular bin cleaning in its refuse tendering agreement which is why Go Plant has invested in a French
built container washer vehicle. The LPG/diesel fired equipment provides a hot or cold wash with disinfectant for 120 to 1,000 litre bins. It will serve Go Plant's nine UK depots as well as working on separate contracts.
Another unusual vehicle was a portable toilet service truck, from the Boughton Group stable.
It carries a pair of commodes, perched on the rear to pre-arranged sites, returning to service them later using the equipment at the back of the truck.
Boughton's Win kleigh, Devon tanker division was one of several manufacturers with gully emptiers on show. Its exhibit was a vacuum jetter for British Airways for use at Heathrow airport.
Market leaders Whale Tankers also had a FL613mounted drain cleaner featured on the Volvo stand.
It was one of three bought in left-hand-drive form for oneman operation, by Nottingham City Council and featured a grid lifter and hydraulically operated rear doors.
One of the largest sludge gulpers at Torbay came from Swedish tanker manufacturer Disab. It displayed its latest Centurion blowvac unit mounted on a Volvo FL10 8x 4 and built for Ailsa Industrial Services of Paisley.
With its 181kW Volvo Penta diesel it can supply up to 800mBar of vacuum or 700mBar pressure via a 200mm hose or multiple smallbore hoses.
Its unladen air volume of 7,070m1/hr helps raise debris from depths as low as 40m. The outfit, which costs in the region of £170,000, features improved filters and radio controls.
Maintenance costs
Reduced maintenance costs are uppermost in everyone's minds. One way of reducing them has been jointly developed by local authority consultant HETS of Leeds and Conveyors (Yorkshire) in the form of a plastic gritter.
It uses corrosion-resistant thermoset polymer panels assembled in a modular format to enable hoppers to be built in a range of sizes.
The new gritter has been mounted on a Freighter 13.13 chassis, loaned to the developers by Leyland DAF dealer Chatfields of Leeds.
Another prototype on show was Tipmaster's Tommylift tail lift for one-tonne pick-up trucks. The first one was built on a Ford P100 chassis but versions for other makes will be available later.
Priced at £995, it will raise 450kg and adds 136kg to the weight of the unladen pickup.