Truck and Trailerent
19th January 1985
Page 7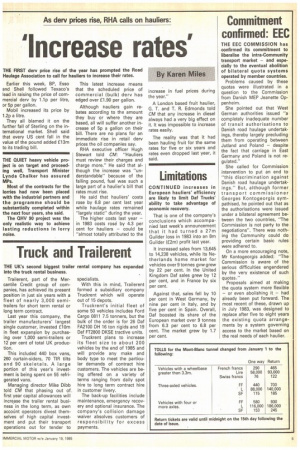 Page 7, 19th January 1985 —
Truck and Trailerent
Close
THE UK's second biggest trailer rental company has expanded into the truck rental business.
Trailerent, part of the Mercantile Credit group of cornpanies, has achieved its present position in just six years with a fleet of nearly 3,000 semitrailers for short term rental or long term contract.
Last year this company, the trailer manufacturers' largest single customer, invested ElOm in fleet expansion by purchasing over 1,000 semi-trailers or 12 per cent of total UK production.
This included 440 box vans, 260 curtain-siders, 70 TIR tilts and 90 skeletals. A large portion of this year's investment is being spent on 55 refrigerated vans.
Managing director Mike Dibb told CM that phasing out of. first year capital allowances will increase the trailer rental business in the long term, as own account operators divest themselves of high capital investment and put their transport operations out for tender to specialists.
With this in mind, Trailerent formed a subsidiary company Truckrent which will operate out of 15 depots.
Truckrent's initial fleet of some 50 vehicles includes Ford Cargo 0811 7.5 tonners, but the bulk of the order is for 26 Daf FA2100 DH 16 ton rigids and 19 Daf FT2800 DKSE tractive units.
Truckrent plans to increase its fleet size to about 200 vehicles by the end of 1985 and will provide any make and body type to meet the particular demands of contract hire customers. The vehicles are being offered on a variety of terms ranging from daily spot hire to long term contract hire in customer livery.
The back-up facilities include maintenance, emergency recovery and optional insurance. The company's collision damage waiver absolves customers of responsibility for excess payments.