Commitment confirmed: EEC
19th January 1985
Page 7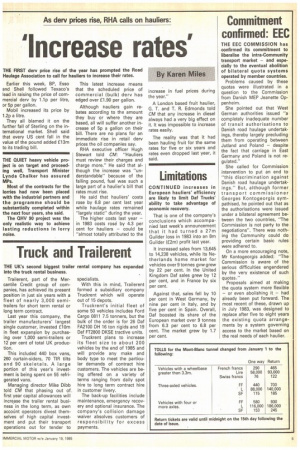 Page 7, 19th January 1985 —
Commitment confirmed: EEC
Close
THE EEC COMMISSION has confirmed its commitment to liberalise the intra-Community transport market — and especially to the eventual abolition of bilateral quota systems operated by member countries.
Problems caused by these quotas were illustrated in a question to the Commission from Danish MEP Jeanette Oppenheim, She pointed out that West German authorities issued "a completely inadequate number of transit authorisations to Danish road haulage undertakings, thereby largely precluding them from operating between Jutland and Poland — despite the fact that carriage in East Germany and Poland is not regulated."
She called for Commission intervention to put an end to "this discrimination against Danish road haulage undertakings." But, although former transport commissioner Georges Kontogeorgis sympathised, he pointed out that as the authorisations were issued under a bilateral agreement between the two countries, "The Commission is not party to the negotiations". There was nothing the Community could do providing certain basic rules were adhered to.
On a more encouraging note, Mr Kontogeorgis added.: "The Commission is aware of the serious difficulties engendered by the very existence of such quotas."
Proposals aimed at making the quota system more flexible — or even abolishing it.— had already been put forward. The most recent of these, drawn up in July 1983, was designed to replace after five to eight years the existing quota arrangements by a system governing access to the market based on the real needs of each haulier.