Rail up 14pc
19th January 1985
Page 6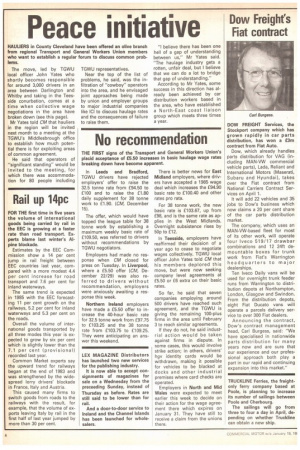 Page 6, 19th January 1985 —
Rail up 14pc
Close
FOR THE first time in five years the volume of international goods being carried by rail in the EEC is growing at a faster rate than road transport. Experts blame last winter's Alpine blockade.
Estimates by the EEC Commission show a 14 per cent jump in rail freight between EEC countries last year, compared with a more modest 4.4 per cent increase for road transport and 7.6 per cent for inland waterways.
The same trend is expected in 1985 with the EEC forecasting 11 per cent growth on the railways, 5.2 per cent for inland waterways and 5.3 per cent on the roads.
Overall the volume of international goods transported by all three modes this year is expected to grow by six per cent which is slightly lower than the 7.1 per cent (provisional) recorded last year.
Common Market experts say the upward trend for railways began at the end of 1983 and was strengthened by the widespread lorry drivers' blockade in France, Italy and Austria.
This caused many firms to switch goods from roads to the railways with the result, for example, that the volume of exports leaving Italy by rail in the first half of last year jumped by more than 30 per cent.