No recommendation
19th January 1985
Page 6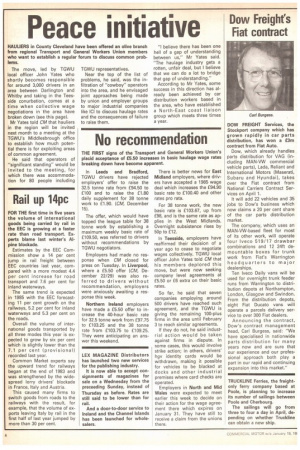 Page 6, 19th January 1985 —
No recommendation
Close
Keywords :
International Transport Workers' Federation
,
International Union Of Food, Agricultural, Hotel, Restaurant, Catering, Tobacco And Allied Workers' Association
,
Transport And General Workers' Union
,
Employment
,
Wage
,
Labor
THE FIRST signs of the Transport and General Workers Union's placid acceptance of £5.50 increases in basic haulage wage rates breaking down have become apparent.
In Leeds and Bradford, TGWU drivers have rejected employers' offer to raise the 32.5 tonne rate from £94.50 to £100 and to raise the £1.80 daily supplement for 38 tonne work to £1.90. (CM, December 15).
The offer, which would have topped the league table for 38 tonne work by establishing a maximum weekly basic rate of £109.50, was referred to drivers without recommendations by TGWU negotiators.
Employers had made no response when CM closed for press on Tuesday. In Liverpool, where a £5.50 offer (CM, December 22/29) was also referred to drivers without recommendation, employers were anxiously awaiting a response this week.
Northern Ireland employers have made a £5.50 offer to increase the 40-hour basic rate for 32.5 tonne work from £97.75 to £103.25 and the 38 tonne rate from £103.75 to £109.25. They were anticipating an answer this weekend. There is better news for East Midland employers, where drivers have accepted a 1985 wage deal which increases the £94.90 basic rate to £100.40 and other rates pro rata.
For 38 tonne work, the new basic rate is £103.67, up from £98, and is the same rate as applies in the West Midlands. Overnight subsistence rises by 50p to £12.
In Teesside, employers have reaffirmed their decision of a year ago to cease to negotiate wages collectively. TGWU local officer John Yates told CM that his members deplored this move, but were now seeking company level agreements at £5.50 or £6 extra on their basic rates.
So far, he said that seven companies employing around 500 drivers have reached such agreement, and the TGWU is giving the remaining 100-plus firms in the area until February 3 to reach similar agreements.
If they do not, he said industrial action would be taken against firms in dispute. In some cases, this would involve strike action; in others, drivers' hgv identity cards would be withdrawn, making it possible for vehicles to be blacked at docks and other industrial premises where card checks are operated.
Employers in North and Mid Wales were expected to meet earlier this week to decide on their action for the wage agreement there which expires on January 31. They have still to receive a claim from the unions there.