Dow Freight's Fiat contract
19th January 1985
Page 6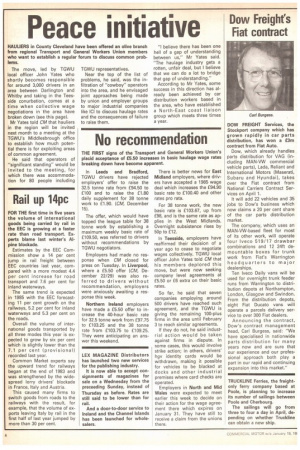 Page 6, 19th January 1985 —
Dow Freight's Fiat contract
Close
DOW FREIGHT Services, the Stockport company which has grown rapidly in car parts distribution, has won a Om contract from Fiat Auto.
Dow, which already handles parts distribution for VAG (including MAN-VW commercial vehicle parts), Lade, Reliant and International Motors (Maserati, Subaru and Hyundai), takes over the Fiat contract from National Carriers Contract Services on April 1.
It will add 22 vehicles and 35 jobs to Dow's business which now claims a 20 per cent share of the car parts distribution market.
The company, which uses an MAN-VW-based fleet for most of its other work, will operate four lveco 519/17 drawbar combinations and 12 24ft demountable boxes for trunk work from Fiat's Warrington headquarters to major dealerships.
Ten lveco Daily vans will be used for overnight trunk feeder runs from Warrington to distribution depots at Northampton, London, Glasgow and Swindon. From the distribution depots, eight Fiat Ducato vans will operate a parcels delivery service to over 300 Fiat dealers.
Announcing the contract, Dow's contract management head, Carl Burgess, said: "We have specialised in nationwide parts distribution for many years now and are sure that our experience and our professional approach both play a part in our rapid and continuing expansion into this market."