Leave out the political dogma
19th January 1985
Page 22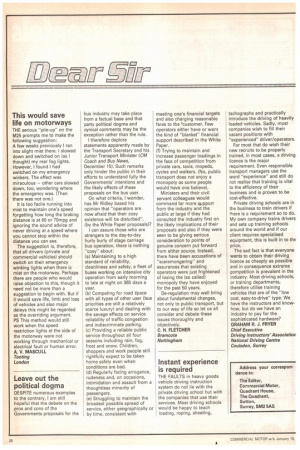 Page 22, 19th January 1985 —
Leave out the political dogma
Close
DESPITE numerous examples to the contrary, I am still hopeful that the debate on the pros and cons of the Governments proposals for the bus industry may take place from a factual base and that party political dogma and cynical comments may be the exception rather than the rule.
I therefore deplore statements apparently made by the Transport Secretary and his Junior Transport Minister (CM Coach and Bus News, December 15). Such remarks only hinder the public in their efforts to understand fully the Governments' intentions and the likely effects of these proposals on the bus user.
On what criteria, I wonder, has Mr Ridley based his opinion that "operators are now afraid that their cosy existence will be disturbed", (by the White Paper proposals)?
I can assure those who are strangers to the day-to-day hurly burly of stage carriage bus operation, there is nothing "cosy" about: (a) Maintaining to a high standard of reliability, cleanliness and safety, a fleet of buses working on intensive city operation from early morning to late at night on 365 days a year.
(b) Competing for road Space with all types of other user (bus priorities are still a relatively scarce luxury) and dealing with the savage effects on service reliability of traffic congestion and indiscriminate parking.
(c) Providing a reliable public service throughout all four seasons including rain, fog, frost and snow. Children, shoppers and work people still rightfully expect to be taken home safely even when conditions are bad.
(d) Regularly facing arrogance, rudeness and, on occasions, intimidation and assault from a thoughtless minority of passengers.
(e) Struggling to maintain the broadest possible spread of service, either geographically or by time, consistent with meeting one's financial targets and also charging reasonable fares to the °customer. Few operators either have or want the kind of "blanket" financial support described in the White Paper.
(f) Trying to maintain and increase passenger loadings in the face of competition from private cars, taxis, mopeds, cycles and walkers. (No, public transport does not enjoy a monopoly as some people would have one believe).
Ministers and their civil servant colleagues would command far more support from the industry and the public at large if they had consulted the industry first on the likely implications of their proposals and also if they were seen to be giving serious consideration to points of genuine concern put forward from either source. Instead, there have been accusations of IIscaremongering" and assurances that existing operators were just frightened of losing the (so called) monopoly they have enjoyed for the past 50 years.
De-regulation may well bring about fundamental changes, not only to public transport, but to our way of life so let us all consider and debate these issues thoroughly and objectively.
C. H. FLETCHER Bramcote Nottingham