Merton 'pit stop' appalls ministry man
19th January 1985
Page 21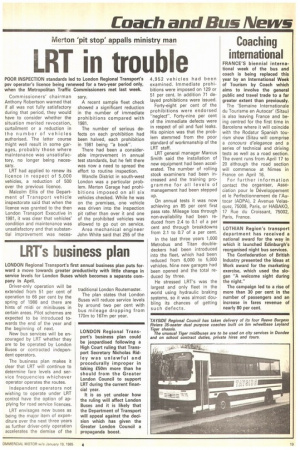 Page 21, 19th January 1985 —
Merton 'pit stop' appalls ministry man
Close
LRT in trouble
POOR INSPECTION standards led to London Regional Transport's psv operator's licence being renewed for a two-year period only, when the Metropolitan Traffic Commissioners met last week.
Commissioners' chairman Anthony Robertson warned that if all was not fully satisfactory during that period, they would have to consider whether the situation merited revocation, curtailment or a reduction in the number of vehicles authorised. The latter course might well result in some garages, probably those where maintenance was unsatisfactory, no longer being necessary.
LRT had applied to renew its licence in respect of 5,000 vehicles, a reduction of 500 over the previous licence.
Malcolm Ellis of the Department of Transport vehicle inspectorate said that when the licence was granted to the then London Transport Executive in 1981, it was clear that vehicles' condition and maintenance was unsatisfactory and that substantial improvement was neces sary.
A recent sample fleet check showed a significant reduction in the number of immediate prohibitions compared with 1981.
The number of serious defects on each prohibition had been halved, each prohibition in 1981 being "a book''.
There had been a considerable improvement in annual test standards, but he felt there was now a need to spread the effort to routine inspection.
Wandle District in south-west London was a particular problem. Merton Garage had prohibitions imposed on all six vehicles checked. While he was on the premises, one vehicle was driven into the inspection pit rather than over it and one of the prohibited vehicles was allowed to go out on service.
Area mechanical engineer John White said that 255 of the 4,952 vehicles had been examined. Immediate prohibitions were imposed on 129 or 51 per cent. In addition 71 delayed prohibitions were issued.
Forty-eight per cent of the prohibitions were endorsed "neglect-. Forty-nine per cent of the immediate defects were in respect of oil and fuel leaks. His opinion was that the problem stemmed from the poor standard of workmanship of the LRT staff.
LRT general manager Marcus Smith said the installation of new equipment had been accelerated. The number of rolling stock examiners had been increased and the training programme for all levels of management had been stepped up.
On annual tests it was now achieving an 85 per cent first pass rate. Mileage loss through non-availability had been reduced from 2.4 to 0.1 of a per cent and through breakdowns from 2.1 to 0.7 of a per cent.
In the last three years 1,000 Metrobus and Titan doubledeckers had been introduced into the fleet, which had been reduced from 6,000 to 5,000 vehicles. Nine new garages had been opened and the total reduced by three.
He stressed LRT's was the largest and only fleet in the world using hydraulic braking systems, so it was almost doubling its chances of getting such defects.