Standards for rust protection
19th January 1985
Page 19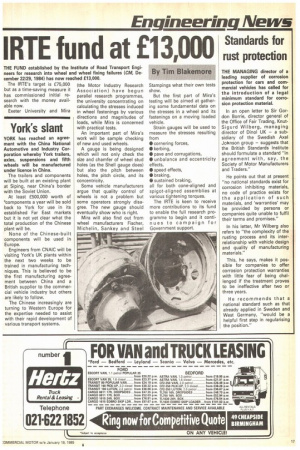 Page 19, 19th January 1985 —
Standards for rust protection
Close
THE MANAGING director of a leading supplier of corrosion protection for cars and commercial vehicles has called for the introduction of a legal minimum standard for corrosion protection material.
In an open letter to Sir Gordon Borne, director general of the Office of Fair Trading, KnutSigurd Wilberg, managing director of Dinol UK — a subsidiary of the Swedish Axel Johnson group — suggests that the British Standards Institute should formulate a standard "in agreement with, say, the Society of Motor Manufacturers and Traders."
He points out that at present "no national standards exist for corrosion inhibiting materials, no code of practice exists for the application of such materials, and 'warranties' may be provided by persons or companies quite unable to fulfil their terms and promises."
In his letter, Mr Wilberg also refers to "the complexity of the rusting process and its interrelationship with vehicle design and quality of manufacturing materials."
This, he says, makes it possible for companies to offer corrosion protection warranties with little fear of being challenged if the treatment proves to be ineffective after two or three years.
He recommends that a national standard such as that already applied in Sweden and West Germany, "would be a helpful first step in regularising the position."