IRTE fund at £13,000
19th January 1985
Page 19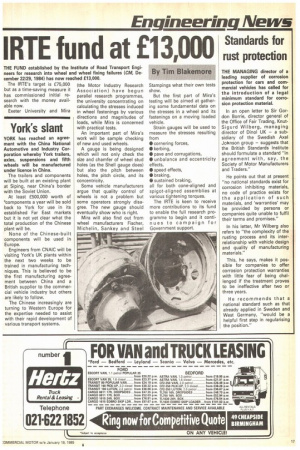 Page 19, 19th January 1985 —
IRTE fund at £13,000
Close
By Tim Blakemare
THE FUND established by the Institute of Road Transport Engineers for research into wheel and wheel fixing failures (CM. December 22/29, 1984) has now reached £13,000.
The IRTE's target is £75,000 but as a time-saving measure it has commissioned initial research with the money available now.
Exeter University and Mira (the Motor Industry Research Association) have begun parallel research programmes, the university concentrating on calculating the stresses induced in wheel fastenings by various directions and magnitudes of loads, while Mira is concerned with practical tests.
An important part of Mira's work will be sample checking of new and used wheels.
A gauge is being designed which will not only check the size and chamfer of wheel stud holes (as the Shell gauge does) but also the pitch between holes, the pitch circle, and its concentricity.
Some vehicle manufacturers argue that quality control of wheels is not a problem but some operators strongly disagree. The new gauge should eventually show who is right.
Mira will also find out from wheel manufacturers Fischer, Michelin, Sankey and Steel Stampings what their own tests show.
But the first part of Mira's testing will be aimed at gathering some fundamental data on the stresses in a wheel and its fastenings on a moving loaded vehicle.
Strain gauges will be used to measure the stresses resulting from • cornering forces, • kerbing, • pave and corrugations, • unbalance and eccentricity effects, • speed effects, • braking, *sustained braking, all for both cone-aligned and spigot-aligned assemblies at various tightening torques.
The IRTE is keen to receive more contributions to its fund to enable the full research programme to begin and it continues to campaign for Government support.