BRS' health operation
19th January 1985
Page 16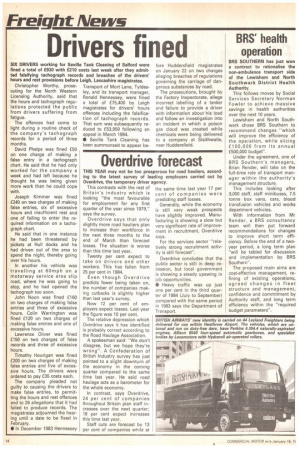 Page 16, 19th January 1985 —
BRS' health operation
Close
BRS SOUTHERN has just won a contract to rationalise the non-ambulance transport side of the Lewisham and North Southwark District Health Authority.
This follows moves by Social Services Secretary Norman Fowler to achieve massive savings in health authorities over the next 10 years.
Lewisham and North Southwark chose BRS Southern to recommend changes "which will improve the efficiency of the operation, while slicing £1 00,0 0 0 from its annual £500,000 budget".
Under the agreement, one of BRS Southern's managers, Brian Render, will take on the full-time role of transport manager within the authority's management structure.
This includes looking after 9,000 staff, staff minibuses, 7.5 tonne box vans, cars, blood transfusion vehicles and works department vehicles.
With information from Mr Render, a BRS consultancy team will then put forward recommendations for changes to improve short term efficiency. Before the end of a twoyear period, a long term plan "will be tabled for discussion and implementation by BRS Southern".
The proposed main aims are cost-effective management, refining of existing operations, agreed changes in fleet structure and management, confidence and commitment by Authority staff, and long term efficiency within the "required budget parameters".