White's short cut to deputy's job
19th January 1985
Page 15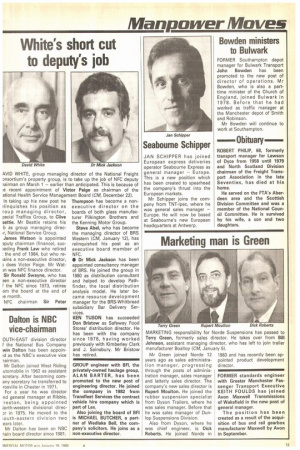 Page 15, 19th January 1985 —
White's short cut to deputy's job
Close
AVID WHITE, group managing director of the National Freight bnsortiumrs property group, is to take up the job of NFC deputy iairman on March 1 — earlier than anticipated. This is because of le recent appointment of Victor Paige as chairman of the ational Health Service Management Board (CM, December 22).
In taking up his new post he ilinquishes his position as roup managing director, pecial Traffics Group, to Clive sattie. Mr Beattie retains his lp as group managing direcir, National Service Group.
James Watson is appointed 3puty chairman (finance), suc)eding Frank Law who retired the end of 1984, but who reiains a non-executive director, does Victor Paige. Mr Wat)11 was NFC finance director. Sir Ronald Swayne, who has aen a non-executive director f the NFC since 1973, retires om the board at the end of le month.
NFC chairman Sir Peter Thompson has become a nonexecutive director on the boards of both glass manufacturer Pilkington Brothers and the Kenning Motor Group.
Steve Abel, who has become the managing director of BAS Western (CM, January 12), has relinquished his post as an executive board member of NEC.
• Dr Mick Jackson has been appointed consultancy manager of BRS. He joined the group in 1980 as distribution consultant and helped to develop Pathfinder, the local distribution analysis model. He later became resource development manager for the BRS-Whitbread subsidiary Bar Delivery Services.
KEN TUSON has succeeded Don Bristow as Safeway Food Stores' distribution director. He has been with the company since 1976, having worked previously with Kimberley Clark and J. Sainsbury. Mr Bristow has retired.