1,635-cubic-ft. Van Within 3-ton Limit
19th January 1951
Page 49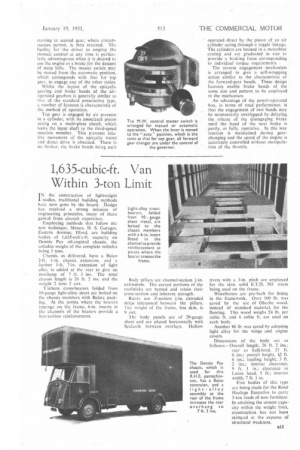 Page 49, 19th January 1951 —
1,635-cubic-ft. Van Within 3-ton Limit
Close
IN the construction of lightweight 1 bodies, traditional building methods have now gone by the board. Design has received a strong infusion of engineering principles, many of them gained from aircraft experience.
Employing methods that follow the new technique, Messrs. H. S. Garages. Eastern Avenue, Ilford, are building bodies of 1,635-cub:c-ft. capacity on Dennis Pax oil-engined chassis, the unladen weight of the complete vehicles being 3 tons.
Chassis, as delivered, have a Baico 2-ft. 1-in, chassis extension, and a further 1-ft. 7-in, extension of light alloy is added at the rear, .to give an overhang of 7 ft. 3 ins. The total eiwosis length is 26 ft. 2 ins, and the weight 2 ions 5 cwt.
Tairteen cross-bearers folded from 19-gauge light-alloy sheet arc bolted on the chassis members with Balata packing. At the points, where the bearers impinge on. the frame,. 6-in, inserts in the channels of the bearers provide a box-section reinforcement. Body pillars are channel-section 1-in. extrusions. The curved portions of the roofsticks are turned and retain their cross-section and inherent strength.
Raves are Z-section On. extruded -strips interposed between the pillars. The weight of the frame, less skin, is 9 cwt.
The body panels are of 20-gauge sheet and arc placed horizontally with Sealastik between overlaps. Hollow
rivets with a 3-in, pitch are employed for the skin, solid E.T.D. 303 rivets being, used on the frame.
Wheelboxes are pre-built for fitting in the framework. Over 100 lb. was saved by the use of Obeche wood. instead of standard material, for the flooring. This wood weighs 24 lb. per cubic ft. and 6 cubic ft. are used on each body.
Another 86 lb. was saved by adopting light alloy for the wings and engine covers.
Dimensions of the body are as follows;—Overall length, 26 ft. 2 ins.; rear to bulkhead, 21 ft. 6 ins.; overall height, LI ft. 6 ins.; loading height, 3 ft. 2 ins.; interior clearance, 9 ft. I in.; clearance in Luton head, 5 ft.; interior width, 7 ft, 1 in.
Five bodies of this type are being made for the Road Haulage Executive to carry 5-ton loads of new furniture. In attaining the utmost capacity within the weight limit, constructioa has not been skimped at the expense of structural weakness.