The Big 3t and Best Brus, s Show
19th January 1951
Page 42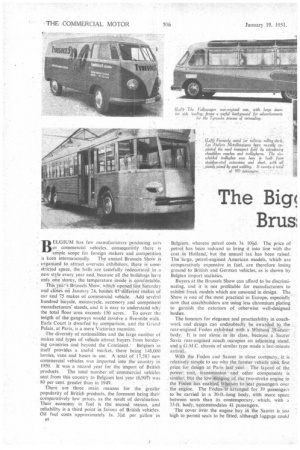 Page 43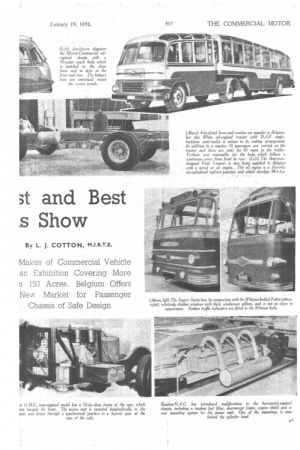 Page 44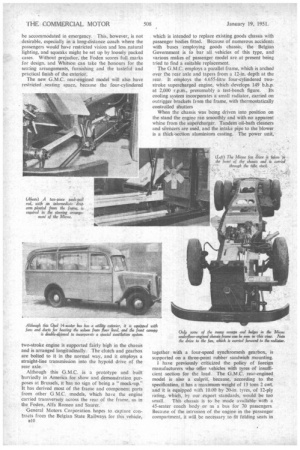 Page 45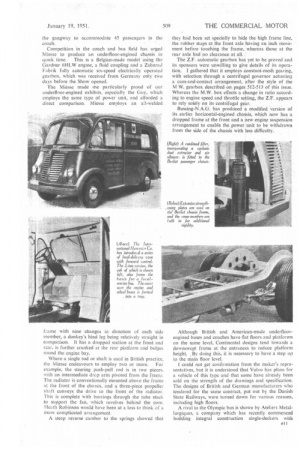 Page 46
Page 42, 19th January 1951 —
The Big 3t and Best Brus, s Show
Close
Keywords :
Road Transport
,
Mechanical Engineering
,
Trucks
,
Edwin Foden, Sons & Co.
,
Sandbach
,
Rear-engine Design
,
Drive Shaft
,
Buses
,
Double-decker Buses
,
Off-road Vehicles
,
Steam Wagon
,
Gmc Motorhome
By L. J. COTTON, M.1.R.T.E. BELGIUM has few inanufacturers producing cars or commercial vehicles, cOnsequently there is ample scope for foreign makers and competition
is keen internationally. The annual Brussels ShoW is 'organized to attract overseas exhibitors; there is unrestricted space, the_ halls are tastefully redecorated in a new style every year and, because all the buildings have only one storey, the temperature inside is comfortable.:
7 This ,Year's Brussels Show., which opened last Saturday and closes oti January 24, houses 85 -different makes of car and 75 makes of commercial vehicle. Add several hundred bicycle, motorcycle, accessory and component manufacturers' stands, and it is easy to understand why the total floor area exceeds 150 acres. To cover tlw, length of the gangways would involve a five-mile walk. Earls Court is dwarfed by comparison, and the Grand Palais, at Paris, is a mere Victorian mansion.
The diversity of nationalities and the large. number of makes and types of vehicle attract buyers from bordering countries and beyond the Continent. • Belgium in itself provides a useful market, there being 148,000 lorries, vans and buses in use. A total of 17,583 new commercial vehicles was imported into the country in 1950. It was a record year for the import of British
products. The total number of commercial vehicles sent from this country to Belgium last year (6,907) was 80 per cent. greater than in 1949. •
There are three main reasons for the greater popularity of British products, the foremost being their comparatively low-. prices, as the result of devaluation. Their economy in fuel is the Second reason, and reliability is a third point in fa+rour of British vehicles. Oil fuel costs approximately Is. licl. per gallon in
a8 Belgium, whereas petrol costs 3s. 104d. The price of petrol has been reduced to bring it into line with the cost in Holland,' but the annual tax has been raised. The large, petrol-engined American models, which are comparatively expensive in fuel, are therefore losing ground to British and German vehicles, as is shown by Belgian import statistics.
Buyers at the Brussels Show can afford to be discriminating, and it is not profitable for manufacturers to exhibit freak models which are unsound in design. The. Show Show is one of the most practical in Europe, especially now that coachbuilders are using less chromium plating to garnish the exteriors of otherwise well-designed bodies.
The honours for elegance and practicability in coachwork and design can undoubtedly be awarded. to. the rear-engined Foden exhibited with .a Whitsori" 3:94eater body. It is not alone in its class, because a Saurer • Savia rear-engined coach occupies an adjoining stand. and a G.M.C. chassis of similar type made a last-minute
arrival. •
With the Foden and• Sauer in close company, it is relatively simple to see why the former vehicle took first prize for design at Paris last year.The layout of the -power unit, transmission and other components is similar . but the low*finging. of the two-stroke engine in the F.Oden has enabled, Whitson to seat passengers over the engine. The Foden,[k arranged for 39 paSsengei's to be carried in a 30-ft.-long body, with more space between seats than its contemporary, which, with a 33-ft. body, accommodates 41 passengers.
The cover over the engine bay in the Saurer is too high to permit seats to be fitted, although luggage could
be accommodated in emergency. This, however, is not desirable, especially in a long-distance coach where the passengers would have restricted vision and less natural lighting, and squeaks might be set up by loosely packed cases. Without prejudice, the Foden scores full marks for design. and Whitson can take the honours for the seating arrangements, furnishing and the tasteful and practical finish of the exterior.
The new G.M.C. rear-engined model will also have restricted seating space, because the four-cylindered two-stroke engine is supported fairly high in the chassis and is arranged longitudinally. The clutch and gearbox are bolted to it in the normal way, and it employs a straight-line transmission into the hypoid drive of the rear axle.
Although this G.M.C. is a prototype and built hurriedly in America for show and demonstration purposes at Brussels, it has no sign of being a mock-up." It has derived most of the frame and component parts from other G M.C. models, which have the engine carried transversely across the rear of the frame, as in the Foden, Alfa Romeo and Saurer.
General Motors Corporation hopes to capture contracts from the Belgian State Railways for this vehicle, BIG which is intended to replace existing goods chassis with passenger bodies fitted. Because of numerous accidents with buses employing goods chassis; the Belgian Government is to bar all vehicles of this type, and various makes of passenger model are at present being tried to find a suitable replacement.
The G.M.C. employs a parallel frame, which is arched over the rear axle and tapers from a 12-in, depth at the rear. It employs she 4.655-litre four-cylindered twostroke supercharged engine, which develops 149 b.h.p.
at 2,000 r.p.m., presumably a test-bench figure. Its cooling system incorporates a small radiator, carried on outrigger brackets from the frame, with thermostatically controlled shutters When the chassis was being driven into position on the stand the engine ran smoothly and with no apparent whine from the supercharger. Tandem oil-bath cleaners and silencers are used, and the intake pipe to the blower is a thick-seCtion aluminium casting. The power unit, together with a four-speed synchromesh gearbox, is supported on a three-point rubber sandwich mounting.
I have previously criticized the policy of foreign manufacturers who offer %alleles with tyres of insufficient section for the load. The G.M.C. rear-engined model is also a culprit; because, according to the specification, it has a maximum weight of 13 tons 2 cwt. and it is equipped with 10.00 by 20-in. tyres, of 12-ply rating, which, by our export standards, would be too
small. This chassis is to be made available, with a 45-seater coach body or as a bus for 70 passengers Because of the intrusion of the engine in the passenger compartment, it will be necessary to fit folding seats in
the gangway to accommodate 45 passengers in the coach.
Competition in the coach and bus field has urged Miesse to produce an underfloor-engined chaSsis in
quick time, This is a Belgian-made model 'using. the Gardner 6I-ILW engine, a fluid coupling and a Zahnrad Fabrik fully automatic six-speed electrically operated gearbox, which was received from Germany only tWo days before the Show opened.
The Miesse made me particularly proud of our underfloor-engined exhibits, espeCially the Guy, which employs the same type of power unit, and afforded a direct comparison. Miesse employs art all-Welded
frame with nine • changes in direction of each side member, a donkey's hind leg being relatively straight in comparison. It has a dropped section at the front and rear, is further cranked at the rear platform and bulges round the engine bay.
Where a single rod or shaft is used in British practice, the Miesse endeavours to employ two or more. For example, the steering push-pull rod is in two pieces. with an intermediate drop arm pivoted from the frame. The radiator is conventionally mounted above the frame at the front of the chassis, and a three-piece propeller shaft conveys the drive to the front of the radiator. This is complete with bearings through the tube stack to support the fan, which revolves behind the core. Heath Robinson would have been at a loss to think of a more complicated arrangement.
A steep reverse camber to the springs showed that
they had been set specially to hide the high frame line, the rubber stops at the front axle having an inch movement before touching the frame, whereas those at the rear axle had no clearance at all.
The Z.F. automatic gearbox ha yet to be proved and its sponsors were unwilling to give details of its operation. I gathered that it employs Constant-mesh gearing, with selection through a centrifugal governor actuating a cam-and-contact arrangement, 'after the style of the M.W. gearbox described on.pagesi. 512-513 of this issue. Whereas the M.W. box effects a change in ratio accord
i
ing to engine speed and throttle se.ting, the Z.F. appears
to rely solely on its centrifugal ge r. :
Bussing-N.A.G. has produced modified Version of its earliei horizontal-engined chaisis, which now has a dropped frame at the front and a hew engine suspension arrangement to enable the .power'unit to be withdrawn from the side of the chassis with less difficulty.
Although British and American-made underfloorengined buses and coaches have flat floors and platforms on the same level, Continental designs tend towards a downswept frame at the entrances to reduce platform height,. By doing this, it is necessary to have a step up to the main floor level.
I could not get confirmation from the maker's representatives, but it is understood that Volvo has plans for a vehicle of this type and that some have already been sold on the strength of the drawings and specification. The designs of British and German manufacturers who tendered for the same contract, put out by the Danish State Railways, were turned down for various reasons, including high floors.
A rival to the Olympic bus is shown by Ateliers Metallurgiques, a company which has recently commenced building integral construction single-deckers with s I t Leyland components. Considering that the initial engines and other units were supplied in August last, the bodybuilder has done well to assemble the bus, test it, and show it in so short a time. The body is designed along the usual Continental lines with few seats and ample standing space to carry the maximum number of passengers It is claimed that the total capacity is for 85 passengers.
Ateliers Metallurgiques, formerly a builder of railway rolling stock, has now turned its attention to the assembly of road vehicles, including a six-wheeler trolleybus of monocoque construction made under licence from Budd. The entire body structure is made
from stainless-steel' extrusions and sheet. This 33-ft.long vehicle, employing a 150 hp. traction. motor, has a capacity for 38 seated and 65 standing passengers, and weighs 10i tons unladen.
75-Seater Articulated Coach
Articulated buses and coaches are popular on the Continent for all types of passenger traffic. In Italy, the articulated bus is used mainly for town operation, but two exhibits at Brussels, using G.M.C. and White tractor units with D A.F. trailers, have seating arrangements for touring or works employees' transport. The G.M.C. 32-seater articulated outfit, with Jonckheere body, is of a type normally used for works transport where employees are collected and driven to the factory, after which the tractor can be hitched up to a load-carrying unit for its normal work during the day.
The White articulated coach, on the other hand, employs a long-wheelbase tractor equipped with a body to carry 10 passengers, in addition to the courier. In the rear section of this unit there are 13 rows of double seats on each side and a folding seat which fits into the gangway. Thus, 65 passengers are accommodated on the semi-trailer.
The differentiation in the cost of petrol and oil fuel in Belgium is considerably greater than in this country, but to offset this, the oil-engined lorry is penalized by a higher annual tax of appi oximatety 40 per cent. as compared with a petrol-engined vehicle of similar weight.
Commer Chassis are Popular
To recover the higher initial outlay and increase of tax, the oil-engined 5-tonner must aggregate 40,000 miles per annum, which is a high figure for Belgium, a country of less than one-tenth the area of the British Isles and with a total population about the same as London.
Comrner Cars, Ltd., in 1950, by far exceeded all previous records for the sale of commercial vehicles in Belg-,ium, the 8-cwt. van, 3-4-boner and 7-tonner being notably good sellers. This points towards a general trend that operators in Belgium can no longer afford to buy overpowered vans and lorries which are expensive in fuel. Were it not for the lower prices of our smaller vehicles, there would be strong opposition from German-built models such as D.K.W., Volkswagen, and Borgward, which use units comparing favourably for
economy with their British counterparts. There is, however, no comparison in these vehicles with the fittings and finish of the British products.
We still have lessons to learn.from American design, both in reducing cost and improving driving comfort. The two-piece light-pressed-steel hand-brake lever on the Diamond-T, for example, is a typical case of reduction in cost, the output in this case justifying the cost of making dies. This lever, hung as it is from behind the instrument panel or ranged alongside the seat, makes for improved floor space in the cab.
A curved screen, now used on many of the American 912 5and 7-tanners, affords a marked benefit to the driver, without adding greatly to the cost of the vehicle. On these same models, a full-width seat with some simple arrangement for vertical and horizontal adjustment is normal.
The tendency to fit larger engines is, for the present, almost at standstill, partly because of the need for fuel economy and because manufacturers are finding it increasingly difficult to combat brake fade which often results after raising the engine power.
Volvo may have experienced this trouble because, following the introduction of a new 150 b.h.p. oil engine, this concern has also adopted the Telma eddy-current brake on the transmission.
An emergency supplementary brake is fitted to the new M.A.N. 10-tonner, which has been built regardless of weight; it tips the scales at 6i tons without load. It is powered by a new eight-cylinderai oil engine, with the cylinders arranged in banks of four, in V-formation. It develops 175 b.h.p. at 1,950 r.p.m. This engine, a direct-injection unit, has a capacity of 11.3 litres. Like the White, Berliet, Mack, and Bussing, it draws a cool air supply into the cylinders through a special duct arranged at the front of the chassis.
In addition to the mechanically operated hand brake and compressed-air assistancefor the foot brake, the M.A.N. is now equipped with a supplementary hydraulic brake which is automatically brought into action when the air pressure falls below a predetermined limit. Continued use of the foot brake on a long hill could reduce the pressure to below a working limit, at which point the shoes will be operated hydraulically and the vehicle brought to rest. Again, the vehicle cannot be driven away after parking unless there be sufficient air pressure for an emergency stop.
Like most American and Continental "heavies," it employs compressed-air brake-operating gear of diaphragm pattern in opposition to our normal piston and cylinder arrangement. The diaphragm unit, which, incidentally, is also used on the G.M.C. rear-engined bus and Miesse horizontal-engined chassis, gives considerably more power over the shoes than our system.
Normally the German heavy lorries employ a narrow frame to permit the use of large-section tyres. The new M.A.N. partly breaks away from this trend in frame design, which is comparatively wide in the front, but with a relatively narrow built-in assembly at the rear to reduce the width and permit twin wheels with •13.00 by 20-in. tyres to be fitted.