Meat Van Drivers' 15s. Rise
19th January 1951
Page 36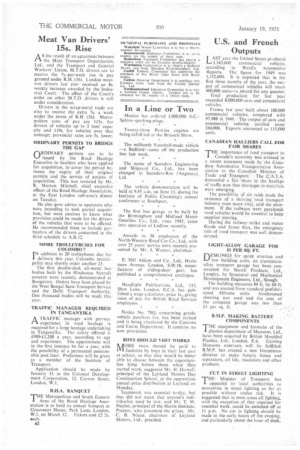 Page 36, 19th January 1951 —
Meat Van Drivers' 15s. Rise
Close
AS the result of an agreement between the Meat Transport Organization, Ltd.. and the Transport and General Workers' Union, M.T.O. drivers are to receive the 7s.-per-week rise in pay granted under R.H. (36). London meatvan drivers last year received an 8s. weekly increase awarded by the Industrial Court. The effect of the Court's order on other M.T.O. drivers is still under consideration.
Drivers in the scrap-metal trade are also to receive the extra 7s.a week under the terms of R.H. (36). Metropolitan rates of pay are 113s. for drivers of vehicles up to 2 tons' capacity and 119s. for vehicles over that tonnage; provincial rates are 5s. lower.
ORDIWARY PERMITS TO BRIDGE THE GAP
ORD1NARY permits are to be issued by the Road Haulage Executive to hauliers who have applied for acquisition, to cover the period between the expiry of their original permits and the service of notices of acquisition. This was revealed by Mr. R. Morton Mitchell, chief executive officer of the Road Haulage Association, at the East London sub-area's dinner on Tuesday.
He also gave advice to operators who were intending to seek partial acquisition, but were anxious to know what provision could be made for the drivers of the vehicles that were to be offered. He recommended them to include particulars of the drivers concerned in the third schedule to A.R.I2.
MORE TROLLEYBUSES FOR COLOMBO?
I N addition to 20 trolleybuses due for delivery this year. Colombo municipality may shortly order another 25. The first double-deck all-metal bus bodies built by the Hindustan Aircraft concern were recently demonstrated at Bangalore. Orders have been placed by the West Bengal State Transport Service and the Delhi Transport Authority. One thousand bodies will be made this year.
TRAFFIC MANAGER REQUIRED IN TANGANYIKA
ATRAFFIC manager with pre-war experience in road haulage is required for a large haulage undertaking in Tanganyika. The salary offered is £900-£1,200 a year, according to age and experience. The appointment will in the first instance be for a year, with the possibility of a permanent pensionable post later. Preference will be given to a member of the Institute of Transport.
Application should be made by January 31 to the Colonial Development Corporation. 12, Curzon Street, London, W.I.
R.H.A. BANQUET
THE Metropolitan and South Eastern Area of the Road Haulage Association is to hold its annual banquet at Grosvenor House, Park Lane, London, W.1, on March 12. Tickets cost £2 2s. each.