Over 100 m.p.h . with an Oil-engined Vehicle
19th January 1932
Page 62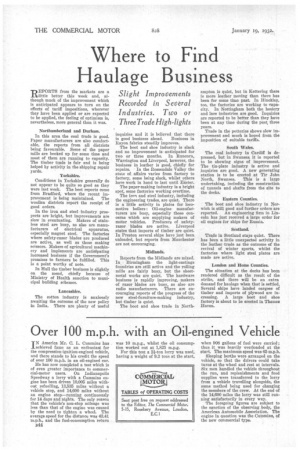 Page 62, 19th January 1932 —
Over 100 m.p.h . with an Oil-engined Vehicle
Close
IN America Mr. C. L. Cummins has. achieved fame as an enthusiast for the compression-ignition-engined vehicle, and there stands to his credit the speed of over 100 m.p.h. in an oil-engined car.
He has now completed a test which is of even greater importance to commercial-motor users. On Indianapolis Speedway a lorry with a Cummins engine has been driven 10,005 miles without refuelling, 13,535 miles without a vehicle stop, and 14,600 miles without an engine stop—running continuously for 14 days and nights. The only reason that the vehicle's non-stop mileage was less than that of the engine was caused by the need to tighten a wheel. The average speed for the distance was 43.41 m.p.h. and the fuel-consumption return
I;44 was 10 m.p.g., whilst the oil consumption worked out at 1,825 m.p.g.
Per this test a 24-ton lorry was used, having a weight of 9.3 tons at the stunt. when 908 gallons of fuel were carried; thus it was heavily overloaded at the start. The maximum speed was 65 m.p.h.
Sleeping berths were arranged on the vehicle, so that the drivers could take turns at the wheel and rest at intervals. ,Six men handled the vehicle throughout the run, and replenishments and food supplies were transferred to the lorry from a vehicle travelling alongside, the same method being used for changing the members of the crew. At the end of the 14,600 miles the lorry was still running satisfactorily in every way.
The foregoing figures are subject to the sanction of the observing body, the American Automobile Association. The engine in question was the Cummins, of the new commercial type.