• Where to Find Haulage Business
19th January 1932
Page 62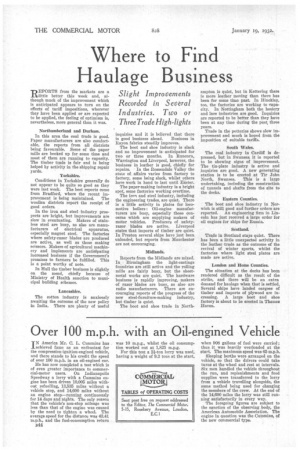 Page 62, 19th January 1932 —
• Where to Find Haulage Business
Close
REPORTS from the markets are a little better this week and, although much of the improvement which is anticipated appears to turn on the effects of tariff impositions, Wherever they have been applied or are expected to be applied, the feeling of optimism is, nevertheless, more general than it was.
Northumberland and Durham.
In this area the coal trade is good. Paper manufacturers are also comfortable, the reports from all districts being favourable. Some of the paper mills are booked up for some time and most of them are running to capacity. The timber trade is fair and is being helped by activity in the shipping repair yards.
Yorkshire.
Conditions in Yorkshire generally do not appear to be quite so good as they were last week. The best reports come from Bradford, where the recent im provement is being maintained. The woollen districts report the receipt of good orders.
In the iron and steel industry prospects are bright, but improvements are slow in eventuating. Makers of stainless steel are busy, as also are manufacturers of electrical apparatus, especially magnet steel. The factories where safety-razor blades are produced are active, as well as those making scissors. Makers of agricultural machinery and implements are anticipating increased business if the Government's promises to farmers be fulfilled. This is a point worthy of note.
In Hull the timber business is slightly on the mend, chiefly because of Ministry of Health sanction to municipal building schemes.
Lancashire.
The cotton industry is anxiously awaiting the outcome of the new policy in India. There are plenty of useful
inquiries and it is believed that there is good business ahead. Business in Rayon fabrics steadily improves.
The boot and shoe industry is slack and no improvement is .anticipated for two or three months. In Runcorn, Warrington and Liverpool, however, the business in leather is good, chiefly for repairs. In the Rossendale Valley the state of affairs varies from factory to factory, some being slack, whilst others have work in hand to last until Easter.
The paper-making industry is a bright spot, some factories working overtime.
The iroTi and steel industry, including the engineering trades, are quiet. There is a little activity in plates for locomotive boilers: Oil-engine manufacturers are busy, especially those concerns which are supplying makers of motor vehicles. Producers of safetyrazor blades are active. Liverpool states that imports of timber are quiet. In Preston several ships have just been unloaded, but reports from Manchester are not encouraging.
Midlands.
Reports from the Midlands are mixed. In Birmingham the light-castings foundries are still active and the rolling mills are fairly busy, but the sheetmetal works are quiet. The hardware business is rapidly improving, makers of razor blades are busy, as also are radio manufacturers. There are encouraging reports of the progress of the new steel-furniture-making industry, but timber is quiet.
The boot and shoe trade in North
ampton is quiet, but in Kettering there is more leather moving than there has been for some time past. In Hinckley, too, the factories are working to capacity. In Nottingham both the hosiery and lace industries are good. Inquiries are reported to be better than they have been at any time during the past three years.
Trade in the potteries shows slow improvement and much is hoped from the imposition of suitable tariffs.
South Wales.
The coal industry in Cardiff is depressed, but in Swansea it is reported to be showing signs of improvement. The tin-plate industry is active and inquiries are good. A new generating station is to be erected at Tir John North, Swansea. This is a large undertaking, including the construction of tunnels and shafts from the site to the docks.
Eastern Counties.
The boot and shoe industry in Norwich is still good and further orders are reported. An engineering firm in Lincoln has just received a large order for oil engines for ships for Russia.
Scotland.
Trade in Scotland stays quiet. There has been a little unexpected activity in the leather trade as the outcome of the revival of winter sports, whilst the factories where light steel plates are ' made are active.
London and Home Counties-.
The situation at the docks has been rendered difficult as the result of the strike, and there will be an extra demand for haulage when that is settled. Several ships have landed cargoes of timber and imports of plywood are increasing. A large boot and shoe factory is about to be erected in Thames Haven.
Tags
Locations
:
Manchester
,
Home Counties
,
Nottingham
,
London
,
Birmingham
,
Bradford
,
Liverpool
,
Preston
,
Lincoln
,
Cardiff
,
Durham
,
Norwich
,
Northumberland