A New
19th January 1932
Page 59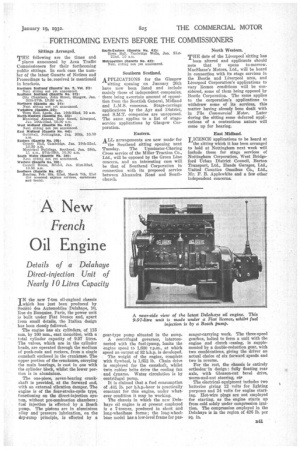 Page 59, 19th January 1932 —
A New
Close
French
Oil Engine
Details of a Delahaye Direct-injection Unit of Nearly 10 Litres Capacity IN the new 7-ton oil-engined chassis which has just been produced by Societe des AutomobilesiDelahaye, 10, Rue du Banquier, Paris, the power unit is built under Fiat liceoce and, apart from small details, the Italian design has been closely followed.
The engine has six cy nders, of 115 mm by 160 mm., east m nobloc, with a total cylinder capacity of 9.97 litres. The valves, which are in the cylinder heads, are operated through the medium of push-rods and rockers, from a single camshaft enclosed in the crankcase. The upper portion of the crankcase, carrying the main bearings, is cast in one with the cylinder block, whilst the lower portion is in aluminium.
The one-piece, seven-bearing crankshaft is provided, at the forward end, with an external vibration damper. The engine is of the four-stroke-cycle type, functioning on the direct-injection system, without pre-combustion chambers; fuel injection is effected by a Bosch pump. The pistons are in aluminium alloy and "pressure lubrication, on the dry-sump principle, is effected by a
gear-type pump situated in the sump.
A centrifugal governor, interconnected with the fuel pump, limits the engine speed to 1,600 r.p.m., at which speed an output of 82 h.h.p. is developed.
The weight of the engine, complete with flywheel, is 1,653 lb. Chain drive is employed for the camshaft, whilst twin rubber belts drive the cooling fan and dynamo. Water circulation is by centrifugal pump.
It is claimed that a fuel consumption of .441 lb. per b.h.p.-hour is practically constant for this engine, under whatever condition it may be working.
The chassis in which the new Delahaye oil engine is at present employed is a 7-tonner, produced in short and long-wheelbase forms; the long-wheelbase model has a low-level frame for pas senger-carrying work. The three-speed gearbox, bolted to form a unit with the engine and clutch 'casing, is supplemented by a double-reduction gear, with two combinations, giving the driver an actual choice of six forward speeds and two in reverse.
For the rest, the chassis is entirely orthodox' in design: fully floating rear axle, with Gleason-cut bevel drive, worm-and-nut steering, ete The electrical equipment includes twO batteries giving 12 volts for lighting purposes and 24 volts for engine starting. Hot-wire plugs are not employed for starting, as the engine starts up from cold solely under compression ignition. The compression employed in the Delahaye is in the region of 426 lb. per sq. in.