FARE REVISIONS FOR GLASGOW CORPORATION SERVICES
19th January 1932
Page 57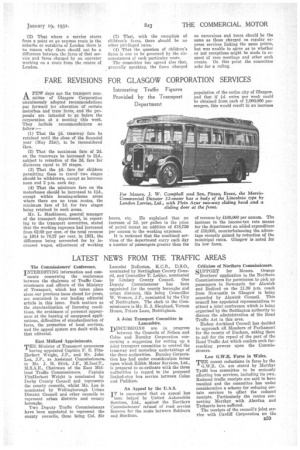 Page 57, 19th January 1932 —
FARE REVISIONS FOR GLASGOW CORPORATION SERVICES
Close
A FEW -days ago the transport cornmittee of Glasgow Corporation unanimously adopted recommendations put forward for alteration of certain motorbus and tram fares, and the proposals' are intended to go before the corporation at a meeting this week. They, include recommendations as follow :—
(I) That the id. tramway fare be retained until the close of the financial year (May 31st), to be reconsidered then.
(2) That the maximum fare of 2d. on the tramways be increased to 2id., subject to retention of the 2d. fare for distances equal to 16 stages.
(3) That the id, fare for children permitting them to travel two stages should be withdrawn except as between noon and 2 p.m. each day.
(4) That the minimum fare on the motorbuses should be increased to 1id., except within housing-scheme areas where there are no tram routes, the minimum fare of id. for two stages being retained in such areas.
Mr. L. Mackinnon, general manager of the transport department, in reporting to the transport committee, stated that the working expenses had increased from 62.69 per cent, of the total revenue in 1914 to 76.27 per cent. in 1931, the difference being accounted for by increased wages, adjustment of working hours, etc. He explained that an increase of 2d. per gallon in the price of petrol meant an addition of £18,750 per annum to the working expenses.
It is reckoned that the combined services of the department carry each day a number of passengers greater than the of revenue by £100,000 per annum. The increase in the income-tax rate means for the department an added expenditure of £10,000, counterbalancing the, advantage recently gained by reduction of the municipal rates. Glasgow is noted for its low fares.