THE FARES COMMITTEE SUBMITS FINAL RECOMMENDATIONS
19th January 1932
Page 56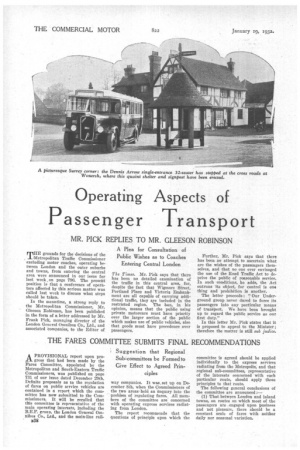 Page 57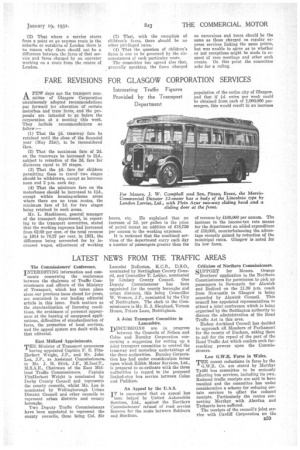 Page 56, 19th January 1932 —
THE FARES COMMITTEE SUBMITS FINAL RECOMMENDATIONS
Close
A PROVISIONAL report upon pro gress that had been made by the Fares Committee, appointed by the Metropolitan and South-Eastern Traffic Commissioners, was published on page 731 of our issue dated December 20th. Definite proposals as to the regulation of fares on public service vehicles are contained in a report which the committee has now submitted to the Commissioners. It will be recalled that this committee is representative of the main operating interests, including the B.E.F. grout), the London General Omnibus Co., Ltd., and the main-line rail' s38 Suggestion that Regional Sub-committees be Formed to Give Effect to Agreed Principles
way companies. It was.set up on December 8th, when the Commissioners of the two areas held an inquiry into the problem of regulating fares. All members of the committee are concerned with operating express services radiating from London.
The report recommends that the questions of principle upon which the committee is agreed should be applied individually to the express services radiating from the Metropolis, and that regional sub-committees, representative of the interests concerned with each particular route, should apply those principles to that route.
The following general conclusions of the committee are announced:—
(1) That between London and inland towns, on routes on which most of the passengers are engaged upon business and not pleasure, there should be a constant scale of fares with neither daily nor seasonal variation, '(2) That where a service starts from a point on an express route in the suburbs or outskirts of London there is no reason why there should not be a difference between the fares of that service • and fares charged by an operator working on a route from the centre of London. (3) That, with the exception of children's fares, there should be no other privileged rates.
(4) That the question of children's fares is one to be governed by the circumstances of each particular route.
The committee has agreed also that, generally speaking, the fares charged
on excursions and tours should be the same as those charged on. regular express services linking the same points, but was unable to agree as to whether or not exceptions might be made in respect of race meetings and other such events. On this point the committee asks for a ruling.