Operating Aspects of
19th January 1932
Page 56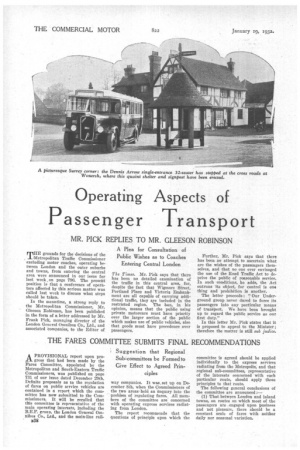 Page 56, 19th January 1932 —
Operating Aspects of
Close
Passenger Transport
MR. PICK REPLIES TO MR. GLEESON ROBINSON
A Plea for Consultation of Public Wishes as to Coaches Entering Central London
E grounds for the decisions of the Metropolitan Traffic Commissioner excluding motor coaches, operating between London and the outer suburbs and towns, from entering the central area were announced in our issue for last. week , on page 70G. The present position is that a conference of operators affected by this serious matter was called last week to discuss what steps should be taken.
In the meantime, a strong reply to the Metropolitan Commissioner, Mr. Gleeson Robinson, has been published in the form of a letter addressed by Mr. Frank Pick, managing director of the London General Omnibus Co., Ltd., and associated 'companies, to the Editor of The Times. Mr. Pick says that there has been no detailed examination of the traffic in this central area,, for, despite the fact that Wigmore Street, Portland Place and Victoria Embankment are all capable of carrying additional traffic, they aye included in the restricted region. The ban, in his opinion, means that the public using private motorcars must have priority over the larger section of the public which makes use of public vehicles, also that goods must have precedence over passengers.
Further, Mr. Pick says that there has been no attempt, to ascertain what are the wishes of the passengers themselves, and that no one over envisaged the use of the Road Traffic Act to deprive the public of reasonable service. In such conditions, he adds, the Act outruns its object, for control is one thing and prohibition is another.
The letter proceeds: `.` Our Underground group never dared to force its passengers into any particular means of transport. We have been brought up to regard the public service as our first duty."
In this letter Mr. Pick states that it is proposed to appeal to the Minister; therefore the matter is still sub judice.