A LUXURIOUS
19th January 1932
Page 49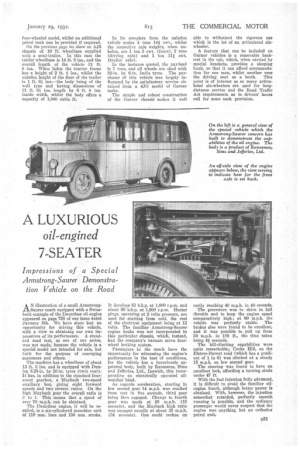 Page 49, 19th January 1932 —
A LUXURIOUS
Close
oil-engined
7-SEATER
Impressions of a Special Armstrong-Saurer Demonstralion Vehicle on the Road ,AN illustration of a small Armstrong
Saurer coach equipped with a Swissbuilt example of the Dauntless oil engine appeared on page 758 of our issue dated January 5th. We have since had an opportunity for driving this vehicle, with a view to obtaining our own impressions of its performance. A standard road test, as one of our series, was not made, because the vehicle is a special model not intended for sale, but built for the purpose of conveying customers and others.
The machine has a wheelbase of about 13 ft. 2 ins. and is equipped with Dunop 8.25-in. by 20-in: tyres (twin rear). it has, in addition to the standard fourspeed gearbox, a'Maybach two-speed auxiliary box, giving eight forward speeds and two reverse ratios. On the high Maybach gear the overall ratio is 8 to 1. This means that a speed of over 70 m.p.h. can be obtained.
The Dauntless engine, it will be recalled,. is a six-cylindered trionoldoc unit of 110 ann. bore and 150 ram. stroke. It develops 83 b.h.p. at 1,600 r.p.m. and about 90 b.h.p. at 1,800 r.p.m. Heater plugs, operating at 2 Volts pressure, are used for starting from cold, the rest of the electrical equipment being at 12 volts. The familiar Armstrong-Saurer engine brake was not incorporated in this particular chassis, which, instead, had the company's vacuum servo fourwheel braking system.
Passengers in the coach have the opportunity for witnessing the engine's performance in the best of conditions, for the vehicle has a luxuriously appointed body, built by Rai-wanes, Sims and Jefferies, Ltd., Ipswich, this incorporating an electrically operated allweather head.
As regards acceleration, starting in low second gear 14 m.p.h. was reached from rest in five seconds, third gear being then engaged. Change to fourth gear was made at 26 m.p.h. (15 seconds), and the Maybach high ratio was engaged usually at about 35 m.p.h. (34 seconds). One could reckon on easily reaching 40 m.p.h. in 40 seconds.
The procedure was to drive in. full throttle and to keep the engine speed comparatively high ; at 60 m.p.h. the vehicle was perfectly. stable. The brakes also were found to be excellent, and it was possible to pull up from 50 m.p.h. in 180 ft., the time taken being 4 seconds.
The hill-climbing capabilities were quite remarkable; Cocks Hill, on the Elstree-Barnet road (which has a gradient of 1 in 6) was climbed at a steady 15 m.p.h. on low second gear.
The steering was found to have an excellent lock, affording a turning circle under 47 ft.
With the fuel injection fully advdnced, it is difficult to avoid the familiar oilengine knock, although better power is obtained. With, however, the injection • somewhat retarded, perfectly smooth running is possible, and the ordinary, passenger would never suspect that the engine was anything but an orthodox petrol unit.