Russian Industry Progressing.
19th January 1932
Page 42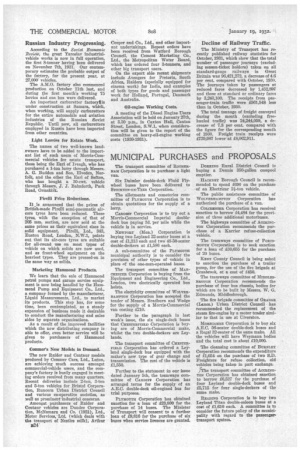 Page 42, 19th January 1932 —
Russian Industry Progressing.
Close
According to the Soviet Economic Revie i, the great l'aroslay industrialvehicle works is now in full operation, the first 8-tonner haying been delivered on November 7th, 1931. Our contemporary estimates the probable output of the factory, for the present year, at 27,000vehicles.
The A.M.O. factory also commenced production on October 11th last, and during the first month's working 75 lorries and one bus were delivered.
An important carburetter factorytis under construction at Samara, which, when working, will supply carburetters for the entire automobile and aviation industries of the Russian Soviet Republic. Until now, all carburetters employed in Russia have been imported from other countries.
Light Lorries for Estate Work.
The names of two well-known landowners have to be added to the important list of such users of Morris-Commercial vehicles for estate transport, these being the Earl of •Iveagh, who has purchased a 1-ton lorry through Messrs. A. G. Budden and Son Elveden, Norfolk, and the other the:Earl of Sefton, who has bought a 30-cwt. vehicle through Messrs. J. J. Balniforth, Park Road, Ormskirk.
Pirelli Price Reductions.
It is announced that the prices of Britiih-made Pirelli semi-pneumatic aircore tyres have been reduced. These tyres, with the exception of that of 205 mm. section, are now sold at the same prices as their equivalent sizes in solid equipment Pirelli, Ltd., 343, Euston Road, London, N.W.1, points out that its air-core tyres are suitable for all-round use on most types of vehicle on which solids are now used, and as front-wheel equipment on the heaviest types. They are pressed-on in the same way as solids.
Marketing Hammond Products.
We learn that the sale of Hammond petrol pumps and garage service equipment is now being handled by the Hammond Pump and Equipment Co., Ltd., a company formed by the manufacturer, Liquid Measurements, Ltd., to market its products. This step has, for some time, been contemplated, as a steady expansion of business made it desirable to conduct the manufacturing and sales sides by separate organizations.
As a result of the improved facilities which the new distributing company is able to offer, even better service will be given to purchasers of Hammond products.
Commer's New Models in Demand.
The new Raider and Centaur models produced by Commer Cars, Ltd., Luton, are achieving much success amongst commercial-vehicle users, and the company's factory is busily engaged in meeting orders received from many quarters. Recent deliveries include 2-ton, 3-ton and 5-ton vehicles for Bristol Corporation, Runcorn Urban District Council and various co-operativ.e societies, as well as prominent industrial concerns.
Amongst purchasers of Raider and Centaur vehicles are Dundee Corporation, McNamara and Co. (1921), Ltd., Motor Services,-Ltd. (which deals with the transport of Nestles milk), Arthur
D24' Cooper and Co., Ltd., and other important undertakings, Repeat orders have been received from Watford Borough Council, the Cement Marketing Co., Ltd., the Metropolitan Water Board, which has ordered four 3-tonners, and other big transport users.
On the export side recent shipments include Avengers for Pretoria, South Africa, Raiders (specially equipped for cinema work) for India, and examples of both types for goods and passenger work for Holland, Portugal, Denmark and Australia.
Oil-engine Working Costs.
A meeting of the Diesel Engine Users Association will be held an January 27th, at 3.30 p.m., in Caxton Hall, Caxton Street, London, S.W.1, when consideration will be given to the report of the committee on heavy-oil-engine working costs (1930-1931).
Decline of Railway Traffic.
The Ministry of Transport has recently published railway statistics for October, 1931, which show that the total number of passenger journeys (excluding season-ticket holders) taken on all standard-gauge railways in Great Britain was 96,421,272, a decrease of 4.6 per cent. compared with October, 1930. The journeys taken by passengers at reduced fares decreased by 1,452,897 and those at standard or ordinary fares by 3,243,100. The receipts from passenger-train traffic were £561,548 less than in October, 1930.
The total tonnage of freight conveyed during the month (excluding freehauled traffic) was 24,244,059, a decrease of 7.8 per cent, compared with the figure for the corresponding month of 1930. Freight train receipts were £739,987 lower 'at £8,062,911.