A NOVEL SCHEME FOR SECURING FUEL ECONOMY
19th January 1932
Page 41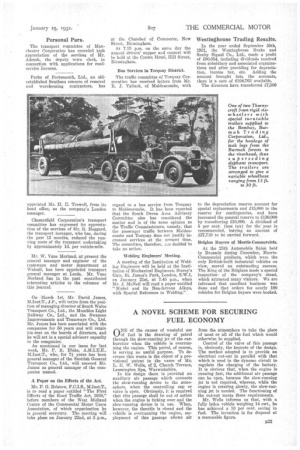 Page 41, 19th January 1932 —
A NOVEL SCHEME FOR SECURING FUEL ECONOMY
Close
ONE of the causes of wasteful use of fuel is the drawing of petrol through the slow-running jet of the carburetter when the vehicle is 'overrunning the engine. This petrol, of course, is serving no useful purpose. To decrease this waste is the object of a provisional patent in the name of Mr. L. E. W. Wells, of 2, Church Terrace, Leamington Spa, Warwickshire.
In his design there is provided an auxiliary air passage which connects the slow-running device to the atmosphere, when the controlling cap or valve is open. Obviously, it is required that this passage shall he out of action when the engine is ticking over and the slow-running device is in use. When, however, the throttle is closed and the vehicle is overrunning the engine, employment of this passage allows air from the atmosphere to take the place of most or all of the fuel which would otherwise be supplied.
Control of the valve of this passage is, obviously, the keynote of the design. The method adopted is to provide an electrical cut-out in parallel with that which is used in the dynamo circuit to regulate the charging of the battery. It is obvious that, when the engine is running fast, the additional air passage can be open, because the slow-running jet is not required, whereas, while the engine is rotating slowly, the slow-running jet is needed. The functioning of the cut-out meets these requirements.
• Mr. Wells informs us that, with a fully laden vehicle weighing 14 cwt., he has achieved a 10 per cent, saving in fuel. The invention is for disposal at a reasonable figure.