Trailers Wanted in Egypt.
19th January 1932
Page 39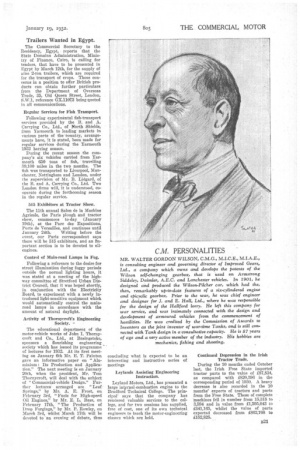 Page 39, 19th January 1932 —
Trailers Wanted in Egypt.
Close
The Commercial Secretary to the Residency, Egypt, reports that the State Domains Administration, Ministry of Finance, Cairo, is calling for tenders, that have to be presented in Egypt by March 12th, for the supply of nine 2-ton trailers, which are required for the transport of crops. Those concerns in a position to offer British products can obtain further particulars from the Department of Overseas Trade, 35, Old Queen Street, London, S.W.1, reference GX.11073 being quoted in all communications.
Regular Services for Fish Transport.
Following experimental fish-transport services provided by the B. and A. Carrying Co., ma., of North Shields, from Yarmouth to leading markets in various parts of the country, arrangements have, it is stated, been made for regular services during the Yarmouth 1932 herring season.
During the recent season the company's six vehicles carried from Yarmouth 650 tons of fish, travelling 59,100 miles in the two months. The fish was transported to Liverpool, Manchester, Nottingham and London, under the supervision of Mr. B. Lidgard, of the B. and A. Carrying Co., Ltd. Two London firms will, it is understood, cooperate during the forthcoming season in the regular service.
515 Exhibitors at Tractor Show.
The 11th annual Salon de la Machine Agricole, the Paris plough and tractor show, commences to-day (January 19th), at the Parc des Expositions, Porte de Versailles, and continues until January 24th. Writing before the event, our Paris correspondent says there will be 515 exhibitors, and an Important section is to be devoted to oilengines.
Control of Main-road Lamps in Fog.
Following a reference to the desire for street illumination during foggy periods outside the normal lighting hours, it was stated at a meeting of the highway committee of Stretford Urban District Council, that it was hoped shortly, in conjunction with the Electricity Board, to experiment with a newly introduced light-sensitive equipment which would automatically control the mainroad lamps in accordance with the amount of natural daylight.
Activity of ThornycrofVs Engineering Society.
The educational department of the motor-vehicle works of John I. Thornycroft and Co., Ltd., at Basingstoke, sponsors a flourishing engineering society which has issued its programme of lectures for 1932. At its first meeting on January 6th Mr. E. T. Painton gave an informative paper on " Aluminium: Its Production and Application." The next meeting is on January 20th, when the president, Mr. Torn Thornycroft, will deal with the subject of "Commercial-vehicle Design." Further lectures arranged are "Leaf Springs," by Mr. A. R Frost, on February 3rd, "Fuels for High-speed Oil Engines," by Mr. E. L. Bass, on February 17th, "The Production of Drop Fergings," by Mr. P. Rowley, on March 3rd, whilst March 17th will be devoted to an evening of debate, thus
MR. WALTER GORDON WILSON, C.M.G., M.I.C.E., M.I.A.E., is consulting engineer and governing director of Improved Gears, Ltd., a company which owns and develops the patents of the Wilson seikhanging gearbox, that is used on Armstrong Siddeley, Daimler, A.E.C. and Lanchester vehicles. In 1901, he designed and produced the Wilson.Pilcher car, which had the, then, remarkably up-to-date features of a six.cylindered engine and epic yclic gearbox. Prior to the war, he was chief engineer and designer for J. and E. Hall, Ltd., where he was responsible for the design of the Hanford terry. He left this company for war service, and was intimately connected with the design and develoinnent of armoured vehicles from the commencement of hostilities. He was credited by the Commission of Awards to Inventors as the joint inventor of wartime Tanks, and is still con. fleeted with Tank design in a consultative capacity. He is 57 years of age and a very active member of the industry. His hobbies are mechanics, fishing and shooting.
concluding whet is expected to be an interesting and instructive series of meetings
Leylands Assisting Engineering Instruction.
Leyland Motors, Ltd., has presented a large int,prnal-combustion engine to the Bradford Technical College. The principal says that the company has rendered valuable services to the college, and for two sessions has supplied, free of cost, one of its own technical engineers to teach the motor-engineering classes which are held. Continued Depression in the Irish Tractor Trade.
During the 10 months ended October last, the Irish Free State imported tractor parts to the value of £87,834, as compared with 3890,396 in the corresponding period of 1930. A heavy decrease is also recorded in the 10 months' exports of tractors and parts from the Free State. Those of complete machines fell in number from 15,318 to 3,594 and in value from £1,595,043 to £341,165, whilst the value of parts exported decreased from 1862,708 to £152,825.