Experimental Work of the Roads Department.
19th January 1932
Page 38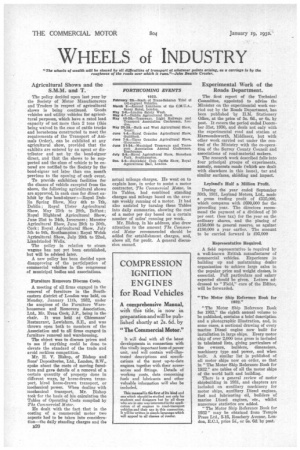 Page 38, 19th January 1932 —
Experimental Work of the Roads Department.
Close
The first report of the Technical Committee, appointed to advise the Minister on the experimental work carried out by the Roads Department, has been published by H.M. Stationery Office, at the price of 5s. 6d., or 6s. by post. It covers the period ended December 31st, 1930, and deals not only with the experimental road and station at Harrnondsworth, Middlesex, but with other work carried out under the control of the Ministry with the co-operation of the Surrey County Council and associations of road-material makers.
The research work described falls into four principal groups of experiments, namely, concrete roads (which are dealt with elsewhere in this issue), tar and similar surfaces, skidding and impact.
Leyland's Half a Million Profit.
During the year ended September 30th, 1931, Leyland Motors, Ltd., made a gross trading profit of £525,000, which compares with £699,000 for the preceding year. The directors recommend the payment of a dividend of 10 per cent. (less tax) for the year on the ordinary shares, and the placing of £150,000 to general reserve, as against £180,000 a year earlier. The amount to be carried forward is £95,000 Representative Required.
A field representative is required by a well-known British manufacturer of commercial vehicles. Experience in building up and maintaining dealer organization to achieve large sales in the popular price and weight classes, is essential. Full particulars and salary expected should be given. Letters addressed to "Field," care of the Editor, will be forwarded.
"The Motor Ship Reference Book for 1032."
"The Motor Ship Reference Book for 1932," the eighth annual volume to be published, contains a brief description and a photographic illustration, and, in some cases, a sectional drawins.' of every marine Diesel engine now built for installation in large ships. Every motor ship of over 2,000 tons gross is included in tabulated lists, giving particulars of the owners, builders, dimensions, machinery type and power, and when built. A similar list is published of all motor ships now on order, so that in "The Motor Ship Reference Book for 1932" are tables of all the motor ships of the world built and building.
There is a general review of motor shipbuilding in 1931, and chapters are included on auxiliary machinery for motor ships, auxiliary Diesel engines, fuel and lubricating oil, builders of marine Diesel engines, etc., whilst numerous statistics are added.
"The Motor Ship Reference Book for 1932" may be obtained from Temple Pre,ss Ltd., 5-15, Resebery Avenue, London, E.C.1, price 5s., or 5s. act by post.