AN ADDITION TO A . FUEL COMPANY'S FLEET.
19th January 1926
Page 27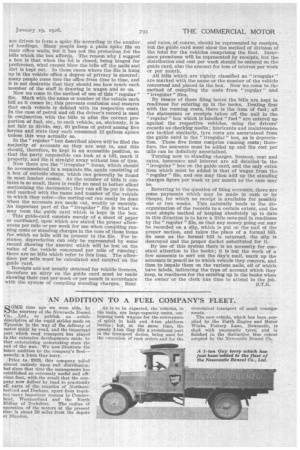 Page 27, 19th January 1926 —
AN ADDITION TO A . FUEL COMPANY'S FLEET.
Close
SOMB time ago we were able, by the courtesy of the Newcastle Benzol Co., Ltd., to publish an article descriptive of the rapid strides made on Tyneside in the way of file delivery of motor spirit by road, and the important part which road transport has played in the extensive developments made by that enterprising undertaking since the end of the war. We now illustrate the latest addition to the company's fleet— namely, a 1-ton Guy lorry.
,Prior to 1919, this company relied almost entirely upon rail distribution. but since that time the management has established an extremely useful and efficient fleet, with the result that the company now deliver by road to practically all parts of the counties of Northumberland and Durham, apart from touching many important centres in Cumberland, Westmorland and the North Riding of Yorkshire. The radius of operation of the motors at the present time is about Eif) miles froni the depots at Bla ydon. As is to be expected, the vehicles, in the main, are large-capacity units, embracing tank wagons for the conveyance of spirit in bulk and 4-ton platform lorries ; but, at the same time, the speedy 1-ton Guy fills a prominent part in the transport duties, being used for the execution of rush orders and for the economical transport of small consignments.
Tho new vehicle, which has been supplied by the Eorth Engine and Motor Works, Pottery Lane, Newcastle, is shod with pneumatic tyres, and is finished in the distinctive blue colour adopted by the Newcastle Benzol Co.