European dangers for British psv operators
19th February 1971
Page 20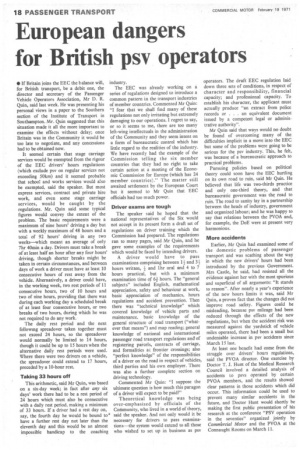 Page 20, 19th February 1971 —
European dangers for British psv operators
Close
• If Britain joins the EEC the balance will, for British transport, be a debit one, the director and secretary of the Passenger Vehicle Operators Association, Mr D. R. Quin, said last week. He was presenting his personal views in a paper to the Southern section of the Institute of Transport in Southampton. Mr. Quin suggested that this situation made it all the more important to examine the effects without delay; once Britain was in the Community it would be too late to negotiate, and any concessions had to be obtained now.
It seemed certain that stage carriage services would be exempted from the rigour of the EEC drivers' hours regulations (which exclude psv on regular services not exceeding 50km) and it seemed probable that school and works services would also be exempted, said the speaker. But most express services, contract and private hire work, and even some stage carriage services, would be caught by the regulations. Mr. Quin said some typical figures would convey the extent of the problem. The basic requirements were a maximum of nine hours' driving a day but with a weekly maximum of 48 hours and a total of 92 hours' driving in any two weeks—which meant an average of only 7hr 40min a day. Drivers must take a break of at least half an hour after any four hours' driving, though shorter breaks might be taken in certain circumstances, and between days of work a driver must have at least 10 consecutive hours of rest away from the vehicle. Alternatively, a driver could have, in the working week, two rest periods of 11 consecutive hours, two of 10 hours and two of nine hours, providing that there was during each working day a scheduled break of at least four consecutive hours, or two breaks of two hours, during which he was not required to do any work.
The daily rest period and the next following spreadover taken together must not exceed 24 hours, so the spreadover would normally be limited to 14 hours, though it could be up to 15 hours when the alternative daily rest periods were used. Where there were two drivers on a vehicle, the spreadover could extend to 17 hours, preceded by a 10-hour rest.
Taking 33 hours off This arithmetic, said Mr Quin, was based on a six-day week; in fact after any six days' work there had to be a rest period of 24 hours which must also be consecutive with a daily rest period, making a minimum of 33 hours. If a driver had a rest day on, say, the fourth day he would be bound to have a further rest day not later than the eleventh day and this would be an almost impossible handicap to the coaching industry.
The EEC was already working on a series of regulations designed to introduce a common pattern in the transport industries of member countries. Commented Mr Quin: "I fear that we shall find many of these regulations not only irritating but extremely damaging to our operations. I regret to say, or so it seems to me, there are too many left-wing intellectuals in the administration of the Community and they seem intent on a form of bureaucratic control which has little regard to the realities of the industry. We have recently had the example of the Commission telling the six member countries that they had no right to take certain action at a meeting of the Economic Commission for Europe (which has 24 member countries)." The matter still awaited settlement by the European Court but it seemed to Mr Quin that EEC officials had too much power.
Driver exams are tough The speaker said he hoped that the national representatives of the Six would not accept in its present form a draft set of regulations on driver training which the Commission had prepared. The regulations ran to many pages, said Mr Quin, and he gave some examples of the requirements which would be faced by intending drivers.
A driver would have to pass examinations comprising between 11 and 31
hours written, and lhr oral and 4 to 7 hours practical, but with a minimum examination time of 6hours. The "general subjects" included English, mathematical appreciation, safety and behaviour at work, basic appreciation of mechanics, hours regulations and accident prevention. Then there was "technical knowledge" which covered knowledge of vehicle parts and maintenance, basic knowledge of the general structure of road transport ("what ever that means") and map reading; general knowledge of national and international passenger road transport regulations and of registering parcels, contracts of carriage, and formalities at frontier crossings; also "perfect knowledge" of the responsibilities of a driver on the road in respect of vehicles, third parties and his own employer. There was also a further complete section on driving technology.
Commented Mr Quin: "I suppose the ultimate question is how much this paragon of a driver will expect to be paid!"
Theoretical knowledge was being over-emphasized by officials of the Community, who lived in a world of theory, said the speaker. And not only would it be necessary for drivers to pass examina tions the system would extend to all those who wished to set up in business as psv operators. The draft EEC regulation laid down three sets of conditions, in respect of character and responsibility, financial capacity; and professional capacity. To establish his character, the applicant must actually produce "an extract from police records or . . . an equivalent document issued by a competent legal or administrative authority".
Mr Quin said that ways would no doubt be found of overcoming many of the difficulties implicit in a move into the EEC but some of the problems were going to be serious for the psv industry. This, he felt, was because of a bureaucratic approach to practical problems.
Pursuing policies based on political theory could soon have the EEC hurtling on its own road to ruin, said Mr Quin. He believed that life was two-thirds practice and only one-third theory, and that bureaucratic government was the road to ruin. The road to sanity lay in a partnership between the heads of industry, government and organized labour; and he was happy to say that relations between the PVOA and, for example, the DoE were at present very harmonious.
More accidents Earlier, Mr Quin had examined some of the domestic problems of passenger transport and was scathing about the way in which the new drivers' hours had been introduced by the previous Government. Mrs Castle, he said, had resisted all the evidence against her with the most spurious and superficial of all arguments: "It stands to reason". After nearly a year's experience of the new hours limits it was, said Mr Quin, a proven fact that the changes did not improve road safety. Figures could be misleading, because psv mileage had been reduced through the effects of the new regulations, but when the accident risk was measured against the yardstick of vehicle miles operated, there had been a small but undeniable increase in psv accidents since March 15 last.
At least one benefit had come from the struggle over drivers' hours regulations, said the PVOA director. One exercise by Doctor T. J. Hunt of the Medical Research Council involved a detailed analysis of accidents to psvs operated by certain PVOA members, and the results showed clear patterns in those accidents which did occur. This information could be used to prevent many similar accidents in the future, and Doctor Hunt would shortly be making the first public presentation of his research at the conference "PSV operation in the seventies" organized jointly by Commercial Motor and the PVOA at the Connaught Rooms on March 11.