New Semi-trailer Frames Fitted for £185
19th December 1958
Page 58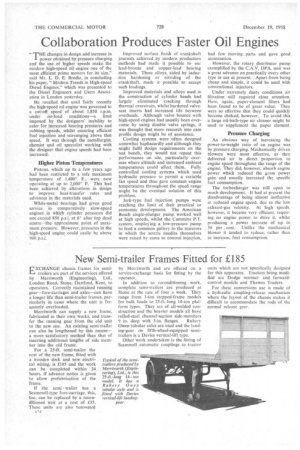 Page 58, 19th December 1958 —
New Semi-trailer Frames Fitted for £185
Close
EXCHANGE chassis frames for semitrailers are part of the services offered by Merriworth (Engineering), Ltd., London Road, Stone, Dartford, Kent, to operators. Correctly maintained running gear—fore-carriages and axles—can have a longer life than semi-trailer frames, particularly in cases where the unit is frequently overloaded.
Merriworth can supply a new frame, fabricated in their own works, and transfer the running gear from the old unit to the new one. An existing semi-trailer can also be lengthened by this means— a more satisfactory method than that of inserting additional lengths of side member into the old frame.
For a 254t. semi-trailer the cost of the new frame, fitted with a wooden deck and new electrical wiring, is £185 and the work can be completed within 24 hours, if advance notice is given to allow prefabrication of the frame.
If the semi trailer has a Scammell-type fore-carriage, this, too, can be replaced by a reconditioned unit at a cost of 135. These units are also renovated
by Merriworth and are offered on a service-exchange basis for fitting by the operator.
In addition to reconditioning work, complete semi-trailers are produced at Stone at the rate of four a week. They range from 3-ton stepped-frame models for bulk loads to 25-ft.-long 14-ton platform types. They are of all-welded construction and the heavier models all have rolled-steel channel-section side-members 9 in. deep with 3-in. flanges. Rubery Owen tubular axles are used and the landing-gear on fifth-wheel-equipped semitrailers is a Davies vertical-lift type.
Other work undertaken is the .fitting of Scam-nen automatic couplings to tractor
units which are not specifically designed for this apparatus. Tractors being modified are Dodge normaland forwardcontrol models and Thames Traders.
For these conversions use is made of a hydraulic coupling-release mechanism where the layout of the chassis makes it difficult to accommodate the rods of the normal release gear.