Atlantean Goes into Service at Wallasey
19th December 1958
Page 54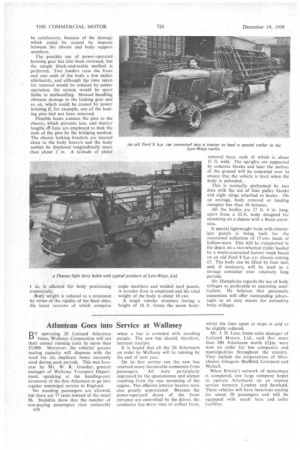 Page 54, 19th December 1958 —
Atlantean Goes into Service at Wallasey
Close
BY operating 20 Leyland Atlantean buses, Wallasey Corporation will cut their annual running costs by more than £5,000. Moreover, the vehicles' greater seating capacity will dispense with the need for six duplicate buses currently used during peak periods. This was forecast by Mr. W. R. Goodier, general manager of Wallasey Transport Department, speaking at the handing-over ceremony of the first Atlantean to go into regular municipal service in England.
No standing passengers are allowed, but there are 77 seats instead of the usual 56. Statistics show that the number of non-paying passengers rises noticeably
n20 when a bus is crowded with standing people. The new bus should. therefore, increase receipts.
It is hoped that all the 20 Atlanteans on order by Wallasey will bz running by the end of next year.
On its first service run the new bus received many favourable comments from passengers. All were particularly impressed by the spaciousness and silence resulting from the rear mounting of the engine. The efficient interior heaters were also greatly appreciated. Because the power-operated doors of the front entrance are controlled by the driver, the conductor has more time to collect fares,
whilst the time spent at stops is said to be slightly reduced.
Mr. J. H. Lees, home sales manager of Leyland Motors, Ltd., said that more than 500 Atlanteans worth £24m. were now on order for bus companies and municipalities throughout the country. They include the corporations of Manchester, Glasgow, Sheffield, Liverpool and Walsall.
When Britain's network of motorways is completed, one large company hopes to operate Atlanteans on an express service between London and Scotland. These vehicles will have luxurious seating for about 50 passengers and will be equipped with snack bars and toilet facilities.