Inventor Must Attend—or No Licence
19th December 1958
Page 43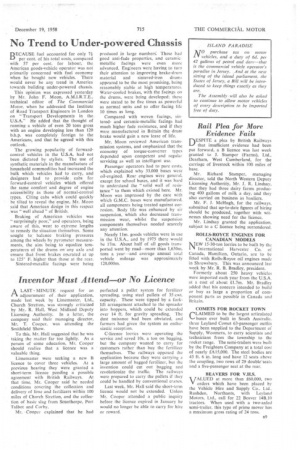 Page 43, 19th December 1958 —
Inventor Must Attend—or No Licence
Close
rkA LAST MINUTE request for an adjournment of their application, made last week by Limemaster, Ltd., Church Stretton, was strongly criticized by Mr.. R. Hall, West Midland Deputy Licensing Authority, In a letter, the company said their managing director, Mr. T. Cooper, was attending the Smithfield Show.
To this, Mr. Hall suggested that he was taking the matter far too lightly. As a person of some education, Mr. Cooper should realize that a licence was a valuable thing.
Lirnemaster were seeking a new B licence to cover three vehicles. At a previous hearing they were granted a short-term licence pending a possible agreement with British Railways. At that time, Mr. Cooper said he needed conditions covering he collection and delivery of lime and fertilizers within 100 miles of Church Stretton, and the collection of basic slag from Scunthorpe, Port Talbot and Corby.
Mr. •Cooper explained that he had perfected a pallet system for fertilizer spreading, using steel pallets of 35-cwt. capacity. These were tipped by a forklift arrangement attached to the spreader into hoppers, which could be extended over 14 ft. for gravity spreading. The dust nuisance had been obviated, and farmers had given the system an enthusiastic reception.
C-licence lorries were operating the service and saved 105. a ton on bagging. but the company wanted to carry for customers rather than buy the fertilizer themselves. The railways opposed the application because they were carrying a large amount of bagged fertilizer, but the invention could cut out bagging and revolutionize the traffic. The railways were prepared to carry the pallets if they could be handled by conventional cranes.
Last week, Mr. Hall said the short-term licence would not be extended. Unless Mr. Cooper attended a public inquiry before the licence expired in January he would no longer be able to carry for hire or reward.